June 28, 2023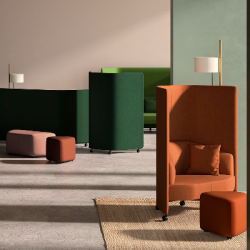 The first day of Clerkenwell Design Week also marked the first birthday of Works, and we celebrated with a number of industry friends at the Goswell Road showroom of Andreu World. Before we could enjoy a birthday drink, however, we had to earn it, and did so by hosting a panel discussion on the subject of Designing Wellbeing at Work. Together with our elite panel of industry greats – comprising Alice Aldous – Associate at Squire and Partners, Beatriz Gonzalez – Director at Scott Brownrigg, Chris Crawford – Studio Director and Senior Associate at Gensler and Alejandro Pardo – North Europe Area Manager for our generous hosts, Andreu World – we looked to lift the lid on the strategies used to foster wellbeing, productivity, and employee satisfaction in the workplace.
I was in The Chair and the discussion began, fittingly, with the question of where and how do you start when it comes to successfully delivering wellbeing?
Alice: I think this comes down to the very first conversation you have with the client – about trying to understand the client's needs. Biophilia, for example, is often seen as incredibly important to the design when it comes to wellbeing. That's something that should be discussed really early on. With recent projects we've looked at addressing not just greenery within the interior but also addressing the senses – the sounds, the smells…for example, at The Ministry, we installed a sound space, where we had some birdsong, which stimulates the brain and encourages productivity.
Chris: We see it as our responsibility to educate clients on the importance of wellbeing and the ways in which the workspace can manifest those. We always pride ourselves on a very human-centric approach to design – so we put the human at the centre of everything we design; if you think about all the touch-points, the way people navigate their way through, the way they interact with the space and really think about what they might be feeling. I think a huge thing is considering inclusivity and neurodiversity. There is no one-size-fits-all when it comes to designing a space that caters for everyone's wellbeing. Everybody is individual and everybody has different needs, so creating variety and choice is incredibly important, and you should empower people to select the spaces that they want and need to work in throughout the day.
We have a huge power in terms of how we design and how we manipulate people into spaces, how we manipulate smells, textures and sounds – and what that means for people and their psychology in the workplace.
Beatriz: I would say that wellbeing is manifested in three different angles. One is the place – the workplace itself is very important and we have a huge responsibility when it comes to how we design these spaces.  The second is people – we are designing for people, and there is a huge diversity of people that we are designing for, whether that is in an office or a different type of space. The third is the culture – the policies that organisations put in place for their people are incredibly important. As designers, we design beautiful environments where people get to experience different ways of working, then the people come and populate the space, but it's down to the organisation to curate those environments – this is very important. This is all part of the design process. When we get involved with a project, how we come up with those wellbeing solutions is part of the brief – it's part of those early conversations with the client. It's our responsibility to inform the client of what is out there. A lot of clients have never done this – and office – before. A lot of clients are very well educated – but some are not. It's our responsibility to take us on that journey. It's very important for us, as designers, to draw on our experience and to explain what we can do. We have a huge power in terms of how we design and how we manipulate people into spaces, how we manipulate smells, textures and sounds – and what that means for people and their psychology in the workplace.
Chris: I think there's now a huge focus in general conversation in society to consider things such as inclusivity, neurodiversity and sensory design, but sometimes clients aren't necessarily informed of how you resolve some of these issues or how you address some of them. So I think it's our responsibility to come in and show the mechanisms and the techniques and the lessons that we have learnt, and how you apply those. There is this careful ecosystem between these things – we quite often say that culture eats strategy for breakfast. In other words, you can have all the good intentions and the strategy around how you design space, but if the culture doesn't enable you to use those spaces for fear of presenteeism or a perception of if you're not at your desk then you're not working, then it all falls short. Considering this is so important when it comes to best facilitating and maximising the real estate we create.
Has our panel seen in a shift in the approach to wellbeing since the pandemic?
Beatriz: I think the pandemic activated or accelerated the way we see wellbeing. I think there is a link between how people feel now and how they felt before – they are now more aware of their social and private lives, they are more aware of mental health, which again have been accelerated by the pandemic, and people are now more educated. There is a huge drive in terms of creating environments that are supportive to the workforce.
Chris: Something that really springs to my mind is the idea of a workspace where people can bring their whole selves and have a degree of authenticity when they are in the space. When we were all working from home and we were all on video calls, there were all these barriers that were being broken down because you're sat in your own home and you're not in formalwear – and with that there was more a level playing field of interaction. That little insight into someone's world and their life outside the office made people realise that you can leverage and maximise their potential, and you can welcome that and encourage that in the workspace.
Alice: I think, with any crisis, comes accelerated change, and I think particularly how we deal with and approach mental health has changed, and how people look at our wellness and our mental health is now much more consistent.
Main image: Oru Chair from Andreu World
This feature appears in the current issue of Works Magazine