June 28, 2023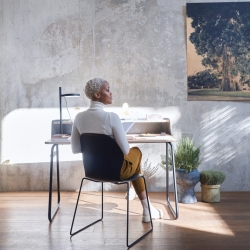 A new report from IWG claims that suburbs, small towns and rural areas across the US and UK are booming, as people take advantage of hybrid working to migrate from larger cities. The study, undertaken in partnership with Arup, suggests that an estimated 500,000 people will leave US cities this year – 59 percent higher than pre-2020 levels – with most moving to suburbs, revitalised former dormitory towns and rural areas. Similarly, outbound migration across the UK is continuing at a faster rate than pre-pandemic levels, and there is strong evidence that suburbs and small towns have higher levels of economic activity than before 2020.
The most common move during the pandemic was from the city centre to the suburbs, however, many people left large cities altogether, opting for less expensive or smaller cities and towns, or the countryside In addition, as house prices and rent continues to rise, the report found that people fled the 12 most expensive US cities, including New York, San Francisco, Los Angeles, Washington DC and Chicago, as migration increased by over 10 percent – with New York seeing the highest rate of out-migration of them all.
A 2021 economic impact story by IWG and Arup claimed that rural and suburban economies could generate up to an extra £327m per year, due to the forecasted expansion of flexible office and co-working spaces in towns and villages to meet the growing demand for hybrid work.  This report confirms that this is taking hold on both sides of the Atlantic. Following the surge of people migrating out of major cities like London and New York during the pandemic, the report confirmed that most opted for small towns and suburbs as workers are now providing a financial boost to areas up and down the country.
Mirroring the US, the UK is seeing the same migration trends, with mobile phone data revealing that small towns, suburbs and seaside locations have seen footfall rise by 50 percent, while transactions at Pret a Manger stores in suburban areas, particularly in northern regions of England and Scotland, have increased sharply. As of November 2022, these transactions stood at 130 percent of pre-pandemic levels.
Furthermore, the report claims a rise in spending in towns outside the traditional commuter belts like East Lothian and Hastings (26 percent and 10 percent respectively), as people began to work locally and cut their five-day commute into city centres. Additionally, in-person spending in the City of London fell by 3 percent between September 2019 and September 2022. In central London (Zone 1), spending was down 2 percent, but in Zone 6 it had increased 12 percent compared to pre-pandemic levels indicating this trend stands in the UK's capital as well.
Cost of housing
Hybrid working continues to grow in popularity with almost half of UK workers (48 percent) and 40 percent of US workers now working in this way, with changing costs in rents and house prices indicating that people have made this change permanently.
The report claims that prices are rising fastest in places that were previously considered too far from urban centres for commuters. For example, the price of a house in Greater Manchester increased by 34 percent from January 2020 to October 2022, equating to a near £60,000 rise. In the City of Glasgow, the average house price rose by £40,000 in the same time period, an increase of 29 percent. Similarly, in the U.S., the price of a house in Raleigh, North Carolina doubled over the past 5 years, from less than $200,000 to $400,000. In the city of Appleton, Wisconsin the average house price rose by 67 percent in the same time period.
While levels of domestic migration have fallen since the pandemic, they are still significantly higher than pre-pandemic levels. In the U.S., migration is 59 percent higher than in 2018/19: while levels fell from an average of 75,000 a month down to 39,000 between late 2021 to early 2022, this is still considerably higher than the pre-pandemic average of 28,000. Higher levels of migration among adults aged 35-64 and their families have persisted as hybrid working becomes the standard working pattern across the two countries for both employers and their employees.
As a result, according to IWG footfall data from the last year, the demand for work spaces outside of city centres has grown by 36 percent. The firm claims that centres in suburban, town and rural locations have seen some of the largest increases in attendance, with workers increasingly forgoing lengthy commutes to work locally. For example, in the UK, the likes of Henley (+100 percent) Northampton (+97 percent), Redhill (+83 percent), Bolton (+66 percent), and Oxford (+54 percent) saw sizable growth in attendance.
This report follows recent data from IWG that identified carbon reductions of up to 87 percent in U.S. and 70 percent in the UK, as a result of hybrid working, claiming that these new working patterns are also having a positive impact on the environment, as well as local economies.