March 18, 2015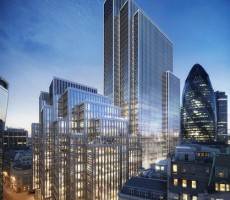 Headlines about the world's accelerating taste for skyscrapers tend to be dominated by the big numbers. This is a world in which size is important, but get behind the focus on height and you find some very interesting data about the rapid and significant changes in what these tall buildings are actually for and how this chimes with broader changes in the way we create and use workplace and shared spaces. According to the most recent annual report on the world's skyscrapers from the Council on Tall Buildings and Urban Habitat, last year was a record breaker with 97 new skyscrapers completed globally. The devil here is in the detail. While the world's tallest new building was One World Trade centre in New York, the overwhelming majority of new skyscrapers are to be found in Asia generally and China in particular.
No fewer than 58 buildings over 200m high were completed in China last year, and an increasing number of them were built away from the primary population centres in places like Beijing and Shanghai. China's tallest building of last year was the 339m high Wharf Times building in Wuxi, which not only tells us something about how China's regional cities are growing rapidly (Wuxi's population has increased by over a fifth in 14 years), but also how the use of tall buildings is changing. China's tallest skyscraper is a mixed use building, not an office.
It's not just about offices any more
This chimes with one of the most telling facts revealed in the CTBUH report, namely the shift in focus away from office skyscrapers in a very short space of time. The new study traces the history of skyscrapers back through the last 90 or so years (see diagram) and finds that throughout the 20th Century the vast majority of new build tall buildings were offices. Then between 2000 and 2010, the proportion of new office skyscrapers built worldwide fell from the 85 percent figure that had been consistent for decades, to just 59 percent. Last year, it was down to 39 percent as there was a marked shift  mixed-use developments (36 percent), residential (16 percent) and hotel (9 percent).
Of course this is partly down to the increased economic might of countries like China, India and the states of the United Arab Emirates which have seen structural changes in their economies and societies as a result. In China alone some 250 million people have relocated from the countryside to cities and they need somewhere to live, meet and stay.
Rapid urbanisation is not the cause of similar developments around the rest of the world, however. The report also cites the examples of major developments such as the Prima Pearl Apartments in Melbourne, the Trump International Hotel in Chicago and The Costanera Center in Santiago.
A changing relationship between work and where it gets done
What such developments signify is not only our changing relationship with the city but our changing relationship with work and the places we carry it out. The office will always play an important role but we have also appropriated a growing number of public spaces that determine not only where but also how we work.
Last year a report from the Fraunhofer Institute highlighted how growing demand from businesses is encouraging hotels to increase the amount of working and meeting space they provide. This is a worldwide phenomenon but we Brits are at the forefront. Three quarters of British employees work in hotels and only Italians spend more time (76 percent), followed by Poland and Switzerland (50 percent respectively), Germany (46 percent), China (45 percent), Russia (43 percent), Austria (42 percent) and France (25 percent).
This is the context in which the worldwide smart cities movement has managed to gain so much credibility. While the main drivers are perhaps greater civic efficiency and an improved environment, the infrastructure of this new generation of cities chimes with the shift to the urbanisation of work. The ongoing roll-out of free city-wide wi-fi across cities such as Leeds, London, Bristol and Edinburgh as part of the Government's £100 million Super Connected Cities programme will drive the increased use of public spaces as workplaces.
Taking to the waters
We're even taking to the water to appropriate more space. The City of London may still be focussed on the creation of a new generation of office towers (up 56 percent year on year according to a report out this week), but down at ground and sea level,  one of Boris Johnson last wheezes as the Mayor of London is to set in motion plans to build the UK first floating village at Royal Victoria Dock. The mixed use development is part of a wider plan to transform each of London's three historic Royal Dockyards into mixed use developments. So as well as the creation of new business districts, the intention is to create a living space based on the pattern of similar developments in the Netherlands, Germany and Scandinavia. Plans are due for submission in the next few weeks.
Such developments are invariably accompanied by the interchange of aesthetics as well as functionality. So just as public spaces, hotels and cafes are evolving to behave and look more like workplaces, so do offices take on the forms and functions of the urban realm. We are increasingly unable to look from one form of space to another and tell which is which.
____________________________________
Charles Marks is the Managing Director of office refurbishment, design and fit-out company Fresh Workspace. www.freshworkspace.com