June 14, 2023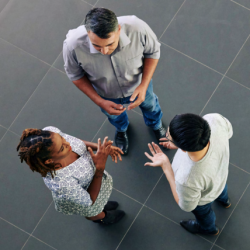 A new poll suggests a workplace jargon language barrier may be driving a wedge between generations, with half (48 percent) of Millennials and Gen-Z saying it makes them feel less involved in the workplace. The research from LinkedIn and Duolingo claims that jargon such as "blue sky thinking", "move the needle on a deadline", or "circling back to take something offline" is off-putting for younger workers, as 69 percent say their colleagues use too much jargon at work.
On the flipside, 'baby boomers' are much more comfortable with getting their "ducks in a row", as only 38 percent say the same.
The words we use at work may seem trivial, but LinkedIn and Duolingo's research claims they have a real impact on how we feel in the workplace. Over half of younger employees (54 percent) admit changing the way they speak to fit in, compared to less than a third of older workers who have done the same (32 percent).
Outside of work, this change is hard to shake off as well – two thirds (64 percent) of Gen-Z and Millennials admit they find themselves using workplace jargon at home, meaning 'EOD' (the end of the working day) for some may not be for others.
This behaviour stems from those entering the workforce feeling isolated. Whilst 60 percent of Gen-Z and Millennials admit that jargon feels like another language, almost half (46 percent) confess that not understanding jargon has caused them to make a mistake at work.
On top of this, 54 percent of younger workers have secretly looked up a word in a meeting to keep up with discussion – twice as many as baby boomers. And, in an attempt to keep up appearances, four in five (83 percent) have used a word they didn't understand in a professional situation.
Top most misunderstood workplace jargon phrases
COP/ EOD – 64 percent
Watchouts – 63 percent
Move the needle – 61 percent
Baked in – 60 percent
Blue Sky thinking – 58 percent
Wordsmith – 57 percent
Quick flag – 57 percent
Low hanging fruit – 55 percent
Deep dive – 50 percent
Circle back – 48 percent
Most frequently used workplace jargon phrases ( percent of people who have used it)
Moving forwards – 20 percent
Touch base – 16 percent
Noted – 15 percent
Singing from the same hymn sheet – 14 percent
Reach out – 11 percent
Blank canvas – 11 percent
Ducks in a row – 7 percent
Take it offline – 7 percent
Circle back – 7 percent
Double click – 7 percent
Most annoying workplace jargon phrases ( percent of people who say the phrase is 'annoying/ frustrating')
Blue sky thinking – 16 percent
Low hanging fruit – 15 percent
Ducks in a row – 14 percent
Move the needle – 13 percent
Touch base – 13 percent
COP/ EOD – 12 percent
Watchouts 12 percent
Baked in – 12 percent
Sing from the same hymn sheet – 12 percent
A quick flag – 12 percent
Most frequently mis-used phrases  ( percent of people who say they've used it but aren't confident in what it means)
Take it offline – 20 percent
'Watchouts' – 19 percent
Blue Sky Thinking – 19 percent
Reaching Out – 19 percent
Closing the loop – 18 percent
Touch base – 18 percent
Noted – 18 percent
In totality – 18 percent
Circle back – 18 percent
Move the needle – 18 percent