November 3, 2022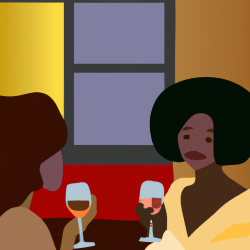 A new poll from Right Management, claims that British office workers aged 18-24 years are much more likely to turn to friends in similar jobs for career advice, than to seek guidance from their immediate manager or any other colleagues (older or younger) in their team. After two years of remote and hybrid working impacting on office life, younger workers who need career guidance are more likely (38.1 percent) to turn to their friends in similar jobs for advice, whereas all other working age groups (those aged 25+) prioritise getting their career advice directly from their immediate manager.
The survey of 1,500 UK employees by Right Management suggests that traditional water cooler moments could be evaporating, which creates another challenge especially for financial, professional and administrative employers who are trying to encourage people back into the office.
Sarah Hernon, Principal Consultant at Right Management, said: "While people of all ages will sometimes turn to their friends for career advice, our study shows that younger workers are more likely to go to their friends first, and much less likely to rely on immediate managers or colleagues for guidance and support in the workplace.
"This could present a problem for effective workforce development because while it may be well-intentioned, friends and peers risk offering the wrong professional advice, tied into their emotional connection to the person rather than looking objectively at career opportunities.  It's therefore important that managers and team leaders all play an active part in making sure their younger colleagues feel comfortable and empowered to ask their immediate managers for support.
Hernon adds: "Clearly it will often feel safer for people to speak to their friends in similar jobs, especially for young people who are new to an industry. But being less inclined to speak to a senior leader isn't helpful for anybody in driving their career forward. We should consider what might be stopping or putting younger people off, from speaking to their line managers."
"One factor could be the trend for more hybrid-working, which has reduced time spent in the office and means that colleague interactions are happening both less frequently and naturally than before the pandemic."
With 67 percent of employers saying there is a skills shortage in the 2022 ManpowerGroup Skills Shortage Survey, Right Management's data also shows that nearly two thirds of employees (63.6 percent) identify a gap in their skills. More than half of British workers (53.9 percent) also say they are desperate to learn and pick up knowledge from more experienced team members.
Hernon says: "It appears that as employers are fighting to retain staff in a highly competitive market, they are also bringing on people who don't necessarily have the right skills to fill roles that are available.
"And although overall it is employees who continue to call the shots in this situation, many workers are crying out for more support and leadership. They want to have conversations and they want to upskill but they need to be encouraged – younger workers especially – to lean on their senior team members."
More than half of the workforce (52.4 percent) say they believe employees should be given mentors. But with the global talent shortage continuing and employers struggling to attract and retain the skills needed, businesses run the risk of an overworked workforce, with many individuals covering gapped roles alongside their day jobs.
"Ultimately, businesses and employees are suffering as a consequence of this. To take control and strengthen their organisations, managers and senior leaders will need to look much more carefully at workload and capacity for individuals, as well as talent mapping and people development to enable better upskilling and employee retention." Adds Hernon.