December 8, 2015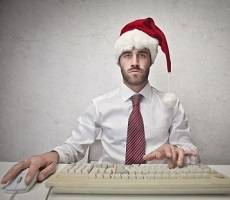 A common complaint over the Christmas period is that the vast majority of the population is off from Christmas Eve to after New Year's Day. In fact a new survey shows that almost two thirds (66 percent) of people in the UK will be working during the festive period, almost 1 in 3 (31 percent) will be working on Christmas Day and 63 percent will check their emails over the period. Although 40 percent of those polled in the survey, which was carried out by retailer Cotton traders, do not have a choice about working over Christmas; of those that do, 46 percent are doing so to earn extra income to fund their Christmas and in the spirit of the season, 39 percent swapped shifts to allow colleagues with a young family to have the day off. Meanwhile, with a clear indication that the Christmas season has begun, advice has been issued by the TUC to staff and employers on how to avoid an embarrassing Christmas party.
In another indication of the growth of presenteeism, 63 percent of people will be checking their emails from home at Christmas with a huge 20 percent stating that they will check them every single day. At the other end of the scale almost a quarter (22 percent) admit to calling in sick to avoid working over the festive period, 15 percent have quit a job to avoid working at Christmas – with 28 percent of Scots having quit a job to avoid working Christmas, more than for any other region. Meanwhile, at 74 percent more Londoners will be working this festive period.
Of the top things offices do to celebrate Christmas; a Secret Santa (41 percent), early finish before Christmas (32 percent) and organised Christmas party paid for by staff (23 percent) are all beaten by the infamous Christmas party paid for by the company (43 percent) but as another Christmas-themed survey carried out this week by the TUC, reveals, still has the potential to spell career-ending behaviour.
More than one in ten (11 percent) workers who have attended a work Christmas party admit embarrassing themselves in front of their boss. The poll, carried out for the TUC by YouGov, also reveals that two in five (40 percent) employees who have attended a work Christmas party have got drunk at their work Christmas do, with men (45 percent) more likely to over-indulge than women (35 percent).
The survey finds that, of those who have attended a work Christmas party:
One in 11 (9 percent) workers has thrown up.
One in 12 (8 percent) employees has revealed something embarrassing about themselves to a colleague.
More than a quarter (27 percent) of 18-24 year-olds have had a dance off with a co-worker, compared to only 8 percent of workers aged 25-39, 4 percent aged 40-49 and 3 percent who are 60 and over.
To help get through the Christmas party ordeal, the TUC makes some (pretty obvious) suggestions to employers, including 'not making people feel bad if they don't want to come along; ensuring there are plenty of non-alcoholic drinks available and not talking about staff performance or other serious HR issues during the party.
Staff are advised to:
Resist the temptation to complain about colleagues or ask your boss for a pay rise.
Be careful not to say or do anything which upsets or insults anyone if you are emboldened with 'Christmas cheer'.
Resist posting embarrassing pictures of your boss or your colleagues on Facebook and Twitter.
Consider booking a day's leave after the party if you think you may be too 'tired' to work
TUC General Secretary Frances O'Grady said: "No one wants to make a fool of themselves in front of colleagues – or worse, do something that will get them sacked at Christmas. Use your common sense and have a happy and safe night."
That is of course, unless you want to get sacked to avoid working Christmas Day.