January 19, 2016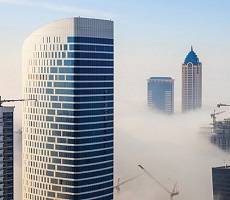 Highly-skilled migrants are increasingly attracted to cities and regions rather than countries, the latest Global Talent Competitiveness Index has revealed. Silicon Valley, Dublin, Helsinki-Espoo, Dubai [pictured] and London are the real hubs, rather than the United States, Ireland, Finland, the United Arab Emirates or the United Kingdom. The index, produced by Adecco Group, INSEAD and the Human Capital Leadership Institute, ranks the factors driving the international movement of skilled migrants of 109 countries, covering 87 percent of the global population and 97 percent of global GDP. Switzerland is in top place, followed by Singapore and Luxembourg in second and third place. At seventh place, the UK is ahead of Germany and France, but behind top performers such as the United States and Canada. It also trails behind in terms of gender diversity; ranking 56th for female graduates and 71st for the gender earnings gap.
The Global Talent Competitiveness Index is based on an extensive meta-analysis of existing research into 61 variables that impact 'talent competitiveness'; a country's ability to attract, develop and retain highly-skilled workers.
The Index, which will be launched later today (Tuesday 19th) in Davos shows:
Most 'talent competitive' countries in the world: top 20
Rank 2015
Rank 2014
Country
1
(1)
Switzerland
2
(2)
Singapore
3
(3)
Luxembourg
4
(4)
United States
5
(8)
Denmark
6
(6)
Sweden
7
(7)
United Kingdom
8
(11)
Norway
9
(5)
Canada
10
(13)
Finland
In addition to the country rankings, this year's Index provides extensive analysis of international mobility and the economic, social and political pull factors that attract talent to foreign countries, regions and cities.
The UK attracts both business and people to its shores, ranking fourth for foreign ownership and seventh for international students. Lifestyle factors also help the UK retain top talent, despite falling behind the likes of the Nordic countries.
As a result, this highly-skilled workforce has made the UK into a world leader in research, innovation and entrepreneurship. But despite good labour productivity, the Index demonstrates that a lack of people with vocational training and skills is holding Britain back.
Ms Alex Fleming, Managing Director and member of the Board of Directors, Adecco Group UK and Ireland, said:
"The Adecco Group Global Talent Competitiveness Index demonstrates how Britain is one of the best countries in the world at attracting skilled migrants, ensuring that we have the skills we need to continue to build a strong economy. This is in no small part due to the Government's openness to foreign business and international students.
"With the referendum on Britain's membership in the European Union looming, this report raises important considerations for policy makers and industry, particularly when it comes to labour mobility. 'Brexit' could hinder our ability to attract investment and top talent.
"The Index is clear: skilled foreign workers have helped to establish the UK as a world leader in research and entrepreneurship, yet at the same the lack of people – both British and foreign nationals – with vocational training and skills is holding Britain back. Government and businesses urgently need to find a strategy to correct this skills imbalance. Any such strategy must be facts-based and not guided by emotions.
"The UK should also not rest on its laurels when it comes to its female workforce. The significant gender pay gap is holding back women, which in turn holds back the country."
Key insights from the Index include:
'Brain circulation' is a more useful and accurate term than 'brain drain' and 'brain gain'. For example, migrants send home more money than foreign aid donates; a factor often overlooked when assessing the impact of migration
Countries and companies should view migration as 'movement of talent', rather than the overwhelmingly emotional response to 'tidal waves of migrants'
Automation and computer technology are a major driver of international migration. For example, low-skilled workers are being replaced by robots and high-skilled jobs are increasingly displaced by algorithms
Global jobseekers are increasingly motivated by the 'American dream' of meritocracy and opportunities. Millennials are particularly intent on developing and progressing fast, rather having no job than one they hate
Jobs are now moving to where talent is, with companies beginning to move strategically important product development and R&D activities to emerging countries, such as China, the Philippines, South Korea and Vietnam, attracted by quality talent at low cost
Indonesia, Chile, South Korea, Rwanda and Azerbaijan have emerged as new 'magnet countries', attracting highly-skilled workers. They are also likely to seek to lure back former emigrants with science and engineering skills
Paul Evans, The Shell Chair Professor of Human Resources and Organisational Development, Emeritus, INSEAD, and Academic Director and co-editor of the Global Talent Competitiveness Index, said:
"Our global data analysis shows it takes more than pay to attract and retain talent, also from abroad — the quality of management practices is increasingly important. While higher educational opportunities remain a key factor of talent attraction and retention, an increasingly important pull factor lies in the professionalism of companies and management practices, exemplified by highly ranked Nordic countries which score particularly high on meritocracy, professional management and attention to employee development.
"This is especially important for the millennial generation who will become the creative leaders of the future."
Wong Su-Yen, Chief Executive Officer, Human Capital Leadership Institute (HCLI), said:
"There is no permanence in a country's talent competitiveness and fleet-footed talent often would seek out greener pastures and career opportunities regionally and globally.  The challenge, therefore, is for countries to continue to innovate in how they build, attract, and retain talent."
Click on the link to view the Global Talent Competitiveness Index