May 14, 2018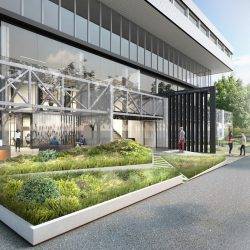 Manchester Science Partnerships (MSP) has opened its new £2m tech incubator which it hopes will help create up to 2,000 jobs in data science and technology innovation companies over the next decade. Reflecting the ambitions of the updated Greater Manchester strategy to build on the city region's strengths in technology and digital innovation, the incubator will provide start-ups with a wide package of business support services including: access to finance, talent and markets advice. Manchester is already a European top 20 digital city and this new incubator is designed play a role in strengthening the city's status as a location for technology businesses over the coming years.
Following the award of £2m from Manchester City Council, the incubator is designed for start-ups working in areas such as artificial intelligence, data analytics, cyber security, cloud technologies; Internet of Things, smart cities and digital health. The incubator will bring these businesses together to foster greater collaboration and growth in the city region's digital and tech economy, which according to the 2017 Tech Nation report is worth nearly £3bn a year and already supports more than 60,000 jobs.
Located at Manchester Technology Centre, part of Circle Square, the launch was attended by more than 250 people including Mayor of Greater Manchester Andy Burnham, Professor Danielle George from the University of Manchester, leading members of the local business community, as well as industry figures, academics and scientists.
Mayor Andy Burnham said: "I want Manchester to be the UK's leading tech and digital centre and this new tech incubator takes the city to another level, because if we are going to be a leader in this industry we have to build an ecosystem that supports businesses at every level, from start-up to the biggest players too. We also need to build a culture of collaboration across the sector, and the whole city region to achieve our ambitions.
"Manchester Science Partnerships is a great example of the collaboration we need, and I congratulate them on creating this amazing space, in such a fantastic location – right on the doorstep of our universities – and I am sure it will be a place where great ideas are brought to life."