November 17, 2021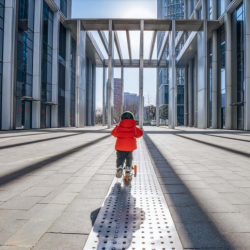 A new research report released by Siemens Smart Infrastructure, titled 'A New Space Race,' has highlighted the increasingly urgent need to transform global infrastructure to focus on adaptability, resiliency and decarbonisation. Data from the report claims infrastructure leaders worldwide recognise the need for digitalisation to tackle challenges in energy systems and the built environment.
"Infrastructure stakeholders are starting to act with real urgency. They recognise the need to accelerate decarbonisation, to build greater resilience and adaptability, while maintaining competitiveness," said Matthias Rebellius, CEO, Siemens Smart Infrastructure. "Major change is challenging, but our highest goals are possible if we harness the power of data and new technologies, welcome greater cooperation and keep driving innovation."
Based on interviews with 500 senior managers from a range of infrastructure disciplines in 10 countries, the report highlights changing priorities in a post-pandemic world. Among its findings is an increasing focus on the role of infrastructure in driving a digitalised energy transition, reducing carbon emissions, enabling future working models, and its potential to play a more active role in the health and wellbeing of people.
Digitalisation as an enabler for decarbonising infrastructure
The report suggests a significant rise in the number of organisations setting low-carbon or net-zero targets, and most respondents are optimistic about these goals, with the majority (94 percent) expecting their organisations to be carbon neutral by 2030.
"Buildings will be a lot more digital in the future"
67 percent of energy infrastructure stakeholders believe that net zero energy is impossible without digitalisation, with AI-driven prediction and automation considered to have the biggest impact on infrastructure assets, projects, and investments over the next five years.
However, the majority (63 percent) of infrastructure stakeholders believe the digitalisation of buildings and power networks is lagging behind digital progress in other industries. Only 31 percent of those questioned said they make full use of the data available to them, with almost half reporting they have not yet done so.
Future adaptability is the most important requirement for buildings
In addition to the impact of infrastructure on the environment, the report also highlights the changing needs and expectations of people in their buildings, factories, facilities, offices, homes and surrounding infrastructure. It claims that for many, adaptability is considered the most critical factor when designing a new building or facility, to allow the re-purposing of spaces to suit changing occupants. Not only was this considered the most important thing to get right; it was also considered the most difficult.
"Buildings will be a lot more digital in the future," said Rebellius. "A facility manager will not only be able to automate, and remotely control more functionality, they will also benefit from a wider network of better sensors that flow into integrated visualisations and richer datasets. This will support a new level of fine-grained control and insights that are needed to make future buildings more resilient and flexible."
Image:Siemens Smart Infrastructure