November 17, 2021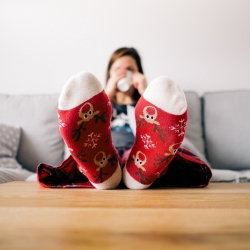 Despite having to get up earlier, commute, and the heightened risk of Covid-19 transmission in the office, almost five million UK employees are considering ditching working from home this winter, due to concerns around rising energy costs.
New research by Electric Radiators Direct claims that almost half (49 percent) of UK employees (that have worked remotely in some capacity since the pandemic hit) say the energy price hike is 'highly' impacting their choice of working location.
In fact, the October 2021 energy price cap increase has caused the cost of working from home (WFH), which includes the average cost of running appliances and devices for a regular working week, will reach £90.64 per month, or £1,088 per year. In comparison, the average Brit spends just £64 a month commuting – meaning working remotely could cost people almost £30 (£27) extra each month.
Currently, Brits can claim £6 per week tax relief from the government on job expenses, which includes gas and electricity costs while working from home, but even factoring this in, many remote workers may still be better off commuting in.
Findings
In the event of another working from home mandate, more than one in five (22 percent) said they will not turn their heating on at all while working from home this winter.
Almost half of those surveyed (48 percent) said they will be more mindful of their overall energy consumption, and almost a fifth (19 percent) said they will invest in smart heating solutions to better monitor energy usage this winter.
Workers in the South East are most concerned about their winter energy consumption while working from home, with over half (51 percent) of respondents saying they will be more mindful of the energy they consume, followed closely by those in the South West (50 percent) and Scotland (49 percent).
Those working in the Environmental Industries (89 percent), Business (78 percent) and Events Management (78 percent) have been most highly influenced by the increasing energy costs when choosing their working location.
"Concerns over rising energy costs have many people considering a return to the office this winter."
Stephen Hankinson, Managing Director at Electric Radiators Direct commented on the findings: "As the days get colder and more of us turn to putting the heating on while we work from home, our research has shown that concerns over rising energy costs have many people considering a return to the office this winter.
With Covid cases still high across the country, choosing whether to work from home or return to the office won't be an easy decision. Our data has shown that the energy price hike will push the majority of the nation to be more mindful of their consumption overall, while some will look to invest in smart heating solutions.
While it's almost inevitable the current energy crisis will impact us and our bills in some capacity, there are several ways to keep costs down and save energy, which is good for our planet and our wallets.
For example, smart electric heating solutions allow you to control temperatures and make sure unused rooms aren't unnecessarily heated, while some even allow you to access your energy consumption statistics through an app, so you can keep tabs on usage and know exactly how much money is going out.
While this is harder to do with gas as it predominantly uses centralised control, meaning all of your radiators are managed collectively, choosing a lower thermostat temperature that still feels comfortable can be a good way to keep costs down."
Find more information on the research here.