February 3, 2021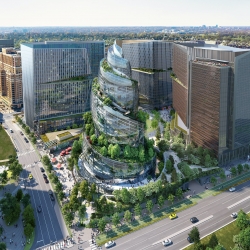 Amazon has submitted plans for its new $2.5 billion headquarters campus, known as HQ2, in Arlington County. Virginia. The NBBJ designed proposal for the PenPlace campus includes a 350 ft glass tower,  three 22-story towers offering 2.8 million sq. ft of office space, a 250-seat outdoor amphitheatre, public green space, and several other buildings. The centre piece tower, officially dubbed The Helix, is a plant covered structure to emphasize the firm's commitment to the environment and biophilic design. 
In a statement, Amazon says The Helix "will include a hill climb that allows people to traverse the entire height of the building and a variety of spaces for individual and team work or relaxation. Designed to reflect a shape commonly found in nature, The Helix will be open to the public select weekends every month… We've designed a workspace for our employees that will prioritize areas for collaboration, natural light, and a constant interaction with nature".
The campus is designed to be pedestrian friendly. Although there is parking on site in the form of underground car parks, people will be encouraged by the design to move around the site on foot, public transport or by bike.
Amazon claims the buildings "are designed to be LEED Platinum, the highest certification for a sustainable development issued by the U.S. Green Building Council. The project also includes an all-electric central heating and cooling system that will run on 100% renewable energy from a solar farm located in Pittsylvania County in southern Virginia, procured in collaboration with Arlington County. This will align with Amazon's Climate Pledge to be net-zero carbon by 2040 and advance Arlington and Amazon's shared commitment to be leaders in the fight against climate change."
If the plans are approved, construction will begin immediately and the scheme is projected to finish in 2025.