May 17, 2023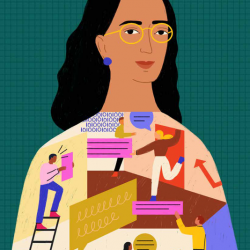 A new report from Eptura [registration] claims that there has been a global wave of return to office bookings led by the Asia Pacific market, including a worldwide 338 percent increase in collaborative room bookings, 76 percent room booking check-in rate, 35 percent increase in visitor check-ins, and 3 percent increase in site inspections.
The report draws on a representative sample of more than six thousand organisations within Eptura's global customer base to showcase emerging patterns in how the physical workspace operates at every level, from individual assets to office floorplans to entire buildings. Data from 2022 serves as a benchmark against which the report compares insights from the first quarter of 2023.
"Data from Eptura's Workplace Index Report demonstrates that space planning, workplace experience, visitor management, and asset maintenance are all inextricably linked," said Brandon Holden, CEO of Eptura. "By taking a comprehensive look at the different facets of the modern working arrangement, businesses can gain a deeper understanding of how the world at work is responding to the needs of their workforce and make more informed decisions about the future of their assets."
Additionally, the report explores four pre-eminent tensions organisations are navigating in today's workplaces: freedom vs. connection; flexibility vs. certainty; value add vs. cost centre; and CO2 target vs. costs:
Freedom vs. Connection
This theme from the report highlights the tension between an individual employee's desire to work how they want and the need for human connection with other employees within a business.
Office attendance headlines of 2022 confirmed one thing for senior management: the commute must be earned and not mandated from their supervisors. Employees want the freedom to choose when and where to work. This desire, however, often conflicts with both the employee and manager's needs to connect in person.
All regions spanning Asia-Pacific (196 percent), Europe and the United Kingdom (796 percent), and the Americas (117 percent) saw significant year-over-year increases in desk booking.
A new post-pandemic pattern has emerged out of this tension. High check-in rates for room bookings show steadily larger populations of the workforce are falling back into the rhythm of going into the office for connection, which tends to attract more people into the office. All regions exceeded a 70 percent check-in rate, and the global rate for room booking check-ins grew from 56 percent to 76 percent.
Flexibility vs. Certainty
The second main theme from the report highlights the tension between the desire to work in a fluid manner and the need for predictability within a business. While flexible work policies are broadly welcomed, they can create enormous friction for facility management and corporate real estate teams who need to plan around workspace demand that changes daily.
Many workplaces are seeing a peak in demand from Tuesday to Thursday. While the data shows a clear pattern of increased room booking during the middle of the week over the past three quarters, Monday and Friday are also seeing increases in room bookings.
Analysis of customer-reported working patterns shows that the majority of flexible work policies fall into one or more of six common categories: Split-Week (35 percent); At-Will (24 percent); Office-First (12 percent); Designated Teams for Hybrid (12 percent); Remote-First (8 percent); and Week-by-Week (4 percent).
When separating return visits from unique visitors, there has been a 35 percent increase in visitor check-ins year over year. Peaking in November 2022, this has now exceeded pre-pandemic visitor traffic levels, with a gain of 60 percent from the lows in January 2022.
Value Add vs. Cost Centre
From a financial perspective, this theme explores the tension between the pressure to reconfigure, remodel, and renovate workspaces to create attractive modern workplaces and the need to rationalize costs in a business, as companies are under twin pressures to deliver effective workplaces from both an employee experience and operational point of view.
Globally, the research shows an ongoing increase in meeting room-based activity with all regions steadily seeing more days per month booked.
Between 4Q 2022 and 1Q 2023, APAC grew from 32 percent in usage of rooms for 14 days or more per month, while EMEA grew at a steady but slower rate at 31 percent growth, and the Americas saw an increase at 48 percent growth. This growth in meeting room usage brought the total number of rooms booked for more than 14 days per month to 74 percent in APAC, 68 percent in EMEA, and 59 percent in the Americas.  Data shows that most work orders are being requested and completed by facility teams on Mondays. Asset inspections are highest on Mondays and Tuesdays.
CO2 Targets vs. Cost
Lastly, this theme from the report highlights the tension between meeting the requirements set by environmental, social, and corporate governance (ESG) standards and the need to optimise costs.
The physical footprint of an organisation's buildings is generally responsible for roughly 30-50 percent of the company's energy consumption. Despite a broad movement to reduce those emissions by at least 50 percent in the next 7 years, high initial costs and insufficient budget have been major blockers to becoming net zero emitters.
Sustainability and workplace jobs are expected to experience rapid growth in the next five years. A new report from The World Economic Forum's Future of Job Report 2023 highlights sustainability as a key driver in the job market, listing Sustainability Specialists, Renewable Energy Engineers, and Solar Energy Installation and System Engineers as some of the fastest-growing roles relative to their size today.