January 19, 2018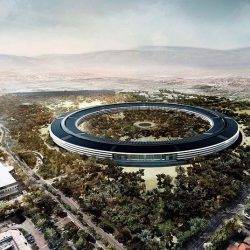 Apple has announced plans to create a new campus for its technical support staff and to hire an additional 20,000 employees over the next five years. The details of the new location will be announced later this year as part of a five year plan which the firm claims will make its direct contribution to the US economy hit more than $350 billion. Apple currently employs 84,000 people in the US, with the majority of in California, including at its much publicised new Apple Park campus building in Cupertino (pictured).
"Apple is a success story that could only have happened in America, and we are proud to build on our long history of support for the US economy," said CEO, Tim Cook announcing the new programme of investment. "We believe deeply in the power of American ingenuity, and we are focusing our investments in areas where we can have a direct impact on job creation and job preparedness. We have a deep sense of responsibility to give back to our country and the people who help make our success possible."
"All of Apple's US facilities, including offices, retail stores and data centres, are powered by 100 per cent renewable energy sources like solar, wind and micro-hydro power, which Apple generates or purchases from local projects," said the company's statement about the new campus building. "The new campus announced today will also be powered entirely by green energy."
Apple now joins Amazon in scouting for a location for a new campus, which may or may not be away from its California base. Amazon finished taking applications from cities in October 2017 for its second headquarters, causing something of a stampede from US cities.