November 8, 2021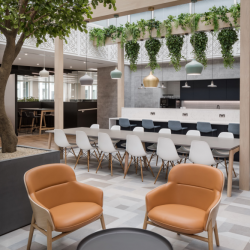 As businesses weigh up the pros and cons of remote working, a new white paper, produced by Oktra, reflects on how attitudes have changed over the last eighteen months. In summary, the paper concludes that working from home is generally fine if you're older, wealthier, male and established in your career. Others may struggle.
Businesses are tempted by a reduction in premises costs but concerned about losing the culture that attracts and retains staff – noting that only 30 percent of workers cite the actual work tasks as the most appealing aspect of their job.
Faced with a choice, the vast majority of office workers would opt to return to the office at least for part of the week, leaving managers to wrestle with the complexities of creating a flexible working regime that is workable, fair and productive.
For Oktra Managing Director Martin Reeves, a return to remote working would involve a complete culture change that could be deeply retrogressive: "People working from home are creating their own silos which, for the past 20 or 30 years, is what we have been trying to combat by working hard to be more collaborative."
The question posed is whether removing the physical office space creates a void at the heart of an organisation – and if this "vacancy effect" presents a real threat.
The company commissioned the white paper in order to probe behind the obvious and talk to managers who have reflected on the experience of the last eighteen months to gather both the positive and negative implications. It's a thought-provoking read for anyone faced with making decisions that could have significant impacts on the future health of their organisations.
Image:Oktra