May 29, 2018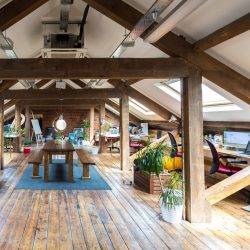 IPSE, the Association of Independent Professionals and the Self-Employed, has announced the 12 longlisted finalists for the 2018 Coworking Space of the Year award. The award has been launched to recognise the role coworking spaces play in 'creating a nurturing, inclusive and stimulating environment for the UK's thriving 4.8 million-strong self-employed workforce;. The venues were judged on a range of criteria including the quality of facilities and staff, the innovation, creativity and distinctiveness of their venue, the passion and commitment to their members and the freelancing community, and the price and value of its membership packages. Intriguingly, only one is in London.
The 12 finalists, which will later be shortlisted to a final four, are:
Impact Hub, Birmingham;
PLATF9RM, Brighton;
Desklodge, Bristol;
TMRW, Croydon;
Clockwise, Glasgow;
Duke Studios, Leeds (pictured);
Avenue HQ, Liverpool;
DoEs Liverpool, Liverpool;
Signature Works, Liverpool;
Space4, London;
Ashton Old Baths, Manchester;
Ziferblat Edge Street, Manchester.
The winner will be announced at National Freelancers Day on Thursday 28 June 2018.