November 13, 2014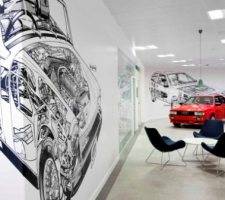 Even in the context of a rapidly declining print market, the decision to end AutoTrader's 37-year history as a printed magazine was not an easy one to take. At its height, Auto Trader had a circulation of 368,000, but in June 2013 the final printed copy rolled off the presses and the business began its new incarnation as a purely digital platform. Of course, this transformation was a long time in the making and had actually begun ten years earlier.  By the time the print room lights went out, all of Auto Trader's revenues had not only migrated online, but experienced significant growth too. It is Auto Trader's growth during this process of transformation that is considered so unique in the publishing world and is proof that the business' aspiration to be at the forefront of the digital marketplace is not just a wide-eyed intention. The website boasts 11.5million unique users, carrying out more than 140 million searches across mobile, table and desktop devices and the business is set to launch an extensive TV advertising campaign on boxing day.
With this seismic shift in strategy, came the need to look more closely at Auto Trader's operations too.  Although a digital business, Auto Trader did not feel like one at all.  This fuelled the need to create a working environment that would better reflect the company's digital metamorphous and its very distinct visual and agile way of working.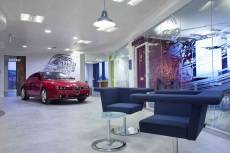 Occupying five premises across the North West, a move to one central Manchester site was planned and Ask Development's First Street chosen for its expansive floor plates and city location.
AutoTrader's 600 strong team of developers and head office support staff moved into the 60,000 sq ft space which spans three floors, during May and June.  The final stages of the fit-out were completed while staff moved in around them and they have adapted to a substantial environmental change with staggering ease.
But while the new office shouts creativity with its bold colours, striking graphics and car meeting rooms, the team at AutoTrader and Claremont Group Interiors, the design and fit-out partner, are at pains to stress that it is not creativity for the sake of it.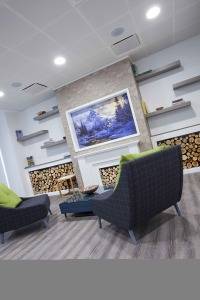 Alison Ross, technology director at Auto Trader said: "A stimulating and creative environment was always our objective, but not at the cost of efficiency or functionality. This office prompts wows from everyone who visits, but they're most impressed when we explain the way we work and how every aspect of the design, even down to the most creative parts such as the car meeting rooms support that."
The workplace has been designed to support Auto Trader's squads (its term for small development teams) and comprises unallocated workstations and an extensive range of social, collaborative, touch-down and one-to-one spaces to support the diverse needs of those within it.
As an adopter of agile working, Auto Trader displays its working processes visually and so write-on surfaces and touch-screen media walls have been used in abundance. This is also where the six specially-modified vehicles, which were craned in over three days and in the face of bad weather, come into their own.  Also treated with a write-on finish, the cars support AutoTrader's view that good ideas can happen anywhere and they are regularly covered in sketches, diagrams and brainstorm notes.  These same vehicles, which include a VW Camper Van and an iconic Jaguar XJ, double up as unique meeting pods and contribute to the already wide choice of spaces to take time out to think, discuss and meet.
As a business focused on being a digital leader it's to be expected that technology features heavily in the fabric of this space. Once into the main open plan areas it is the 14 media walls that dominate.  Providing an easy way for teams to work collaboratively on projects and update on progress, these walls continue the expressive work ethos and provide a means for internal communication too.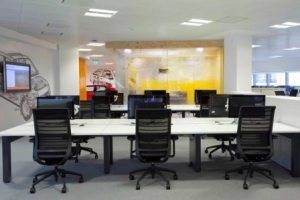 "It's this integration of technology which really transforms the space for us, empowering our employees to choose the best space to support the task in hand. That might be sitting in the bleacher space for a team meeting, working solo in the camper van or testing new apps on a media wall." said Alison Ross from Auto Trader. "
All 38 of the meeting rooms are techy-ready with large format displays, video and Lync audio-conferencing, supported with Condeco's automated room booking systems to manage the assets and encourage best use.
There's some playful integration too – with AV concealed behind an automated mantel piece picture in the Ski Lodge. The Ski Lodge is perhaps one of the most incongruous aspects of the design, a space which forfeits the industrialised finish, quirky details and British-ness of other areas in favour of a warmer, softer alpine lodge for relaxed and flexible team meetings.
The design of this digital workspace is centred on the business value of bringing employees together. Auto Trader has shied away from the concept of home-working and many of the workplace initiatives this promotes (such as desk-sharing) in favour of insisting employees share the same physical space and that each has a desk of their own. This decision is one based on experience Auto Trader knows that the best ideas are developed in the most efficient way when its teams collaborate, come together and live the brand.
Of course, with a business like AutoTrader the new office must tell the brand story and it does that in spades. The meeting room cars reflect the four decades of Auto Trader's operation, all 38 meeting rooms have been named after cars (from the iconic Spitfire to the less-revered Panda) and Terry Davey's iconic Haynes Manual illustrations adorn the walls as graphics which can be coloured in. You are in no doubt where you are.
The strength of AutoTrader's new office lies in how it empowers employees and supports the work they do. The creative design features are merely practical tools that support how work is done. Surely that's the very definition of effective workplace design.
___________________________________________

Reporting by Helen Strother of Plume PR