July 11, 2018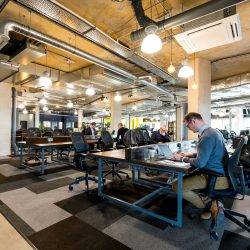 Liverpool's Avenue HQ has been crowned 'National Co-Working Space of the Year' by The Association of Independent Professionals and the Self-Employed (IPSE). The award claims to 'recognise and celebrate the important role coworking spaces play in creating a nurturing, inclusive and stimulating environment for the UK's 4.8 million-strong self-employed workforce'. The coworking industry is booming globally as companies of all sizes recognise the importance of working environment on employee and business performance. Pioneered by start-ups, entrepreneurs and freelancers, a growing number of companies, large and small, are incorporating the concept and rapidly reaping the benefits.
The venues were judged on a range of criteria including the quality of facilities and staff, the innovation, creativity and distinctiveness of their venue, the passion and commitment to their members and the freelancing community, and the price and value of its membership packages.
Since launching in June 2017 in Liverpool, Avenue HQ, supported by Barclays Eagle Labs, has quickly reached capacity. The 22,000 sq ft space is home to over 160 businesses and has welcomed more than 12,000 people for events over the last 12 months.
In celebration of National Freelancers Day, IPSE hosted a full day of workshops, seminars, panel sessions and networking, in Kings Cross, London; bringing together freelancers, contractors, independent professionals and the self-employed from across the UK. Ending the day, they hosted their 10th annual IPSE Awards Ceremony where Avenue HQ were recognised alongside other awards such as Freelancer of the Year, and Young Freelancer of the Year.
Matthew Kennedy, CEO and Founder of Avenue HQ, said; "We are delighted to receive this award from IPSE in recognition of what we have achieved over the past year. Freelancers and remote workers are so important to the UK economy and are a huge part of why we built our space; to allow people to work in a way that suits them, creating additional opportunities for our members and the wider business community. The nature of work is changing, and our aim is to provide a dynamic environment that increases productivity and innovation. Our culture is focused on providing the best possible facilities and service for members to ensure they can get the most out of their working life. Our team work hard to support and nurture freelancers and remote workers within the space and it's fantastic to be recognised by IPSE."
Avenue HQ offers private offices, hot desking and studio spaces, events, meetings and conference facilities for up to 300 people, as well as a bar and on site coffee shop.  Avenue HQ's private offices are now at capacity after their recent expansion, taking over more space in the iconic Mann Island building on Liverpool Waterfront. Members include: outdoor advertising agency 'Open Media', wellbeing experts 'Health at Work', BDP Architects, Darkhorse Design, Syft Recruitment, and The Anfield Wrap, who have an office as well as a film and podcast recording studios on site.