July 20, 2017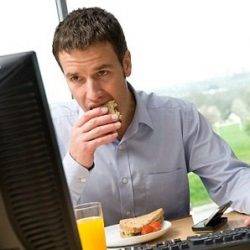 The average worker in Britain now takes just 34 minutes for their lunch break with over half of workers (52 percent) skipping their lunch break completely – a significant shift from the traditional one hour break.  Londoners are most likely to skip their lunch hour altogether, closely followed by Birmingham, Manchester and Norwich. This is according to new research from Workthere, the flexible workspace search service launched by Savills last year. Workthere commissioned a poll of 2,000 full time workers across Britain on their lunchtime habits to find out how long they actually take. The results show that office employees eat at their desk on average four days per week and even when they do take a break, they often don't step out of the office, with over a third of those polled (37 percent) saying they rarely leave the office at lunch time. Additionally, 12 percent agreed they felt pressure to work through their lunch hour. Workthere also asked how the office environment affects these behaviours and found that over a third (36 percent) of those questioned said that access to outside space at lunchtime would make them more productive at work, with 32 percent confirming a quiet area to escape to would make a difference to the time they spend on their break.
Key findings include:
34 percent of workers surveyed take a break of 21 to 30 minutes, while 13 percent take 20 minutes or less.
Those working in HR are most likely to skip their lunch break (70 percent), followed by Finance (68 percent) and those within the Arts & Culture sector (62 percent).
Workers in professions with set hours or shifts were most likely to regularly take their lunch breaks
58 percent of workers in the Manufacturing & Utilities sector and 56 percent of workers in the Education sector do not skip their lunch break.
Cal Lee, founder and head of Workthere, comments: "We have seen wellness establish itself firmly on the workplace agenda with employers increasingly recognising the benefits of ensuring staff are content, happy and most importantly, in good health.  Part of this is creating a productive office environment where employees feel comfortable taking a longer lunch break and engaging with colleagues."
Workthere claims that the trend of providing a variety of areas for staff to enjoy their breaks is particularly visible in the serviced and flexible office sector with providers looking to cater to a range of diverse requirements. Examples include: outdoor space; roof terraces; a subsidised canteen; quiet areas and even lunch hour activities to encourage staff to step away from their desks.