July 22, 2014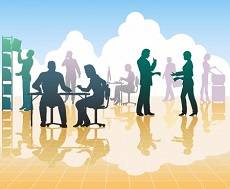 The challenge for the typical office is that it is meant to satisfy a broad range of individuals and a variety of working practices; which means what some may describe as a distracting open-plan layout, others would view as a busy collaborative workspace. These conflicts are highlighted in a new study by the British Council for Offices (BCO), Morgan Lovell and Hatch, which surveyed 2,000 UK office workers' working conditions, attitudes and expectations. For example while over two thirds were critical of the distractions of the open-plan office, nine out of ten employees believe that support from colleagues enhances their wellbeing. Putting aside the open-plan debate, the study espouses the continued importance of the office as the best place to do business and comes up with three key starting points to help employers create a culture of wellbeing: care; control and collaboration.
Care
Nine out of ten (94%) employees feel a greater sense of wellbeing if they believe their job has meaning. From showing employees the impact their work has on customers or colleagues to proving their company is at the cutting edge in an exciting field, it has never been more important for companies to help employees understand what they do and why. Of those who do not feel recognised as an individual, nine out of ten (88%) want to feel more valued and encouraged in their work.
Control
The study found that nine out of ten (87%) workers feel their wellbeing diminishes if they don't have control over their day-to-day activities. In addition, they want the flexibility and control to mix collaboration with colleagues with quiet moments of concentration to help them get 'in the zone'. Nine out of ten (92%) workers claim that working 'in the zone' helps them perform better as well as feel better. However, currently over three quarters (77%) of people feel they are hampered by a noisy open-plan environment and a further quarter (27%) are frustrated by a lack of privacy, while more than two thirds (69%) would like to see relaxation areas in their workplace.  Companies can meet this need for control by offering employees flexibility and choice in how and where they work and trusting them to decide their own working patterns.
Collaboration
Nine out of ten employees believe that support from colleagues enhances their wellbeing and makes them more productive, according to the survey. But building a collaborative environment as remote working grows means companies need to embrace connectivity to ensure that employees have the tools to work, discuss and innovate together no matter where they are.  Contrary to many schools of thought, the survey reveals that virtual connectivity actually contributes to wellbeing according to more than half (58%) of workers surveyed.
Despite the growth of hot-desking (15% of workspaces), the study highlights the continued importance of the office as the place we do business. The UK is still in the era of the open plan office, accounting for over half (54%) of workspaces while the 1980's office is well and truly dead with only 1 in 50 people working in cubicles – half the proportion of people who work at home or in specially designed flexible workspaces.
Richard Kauntze, Chief Executive, British Council for Offices said: "It is widely accepted that wellbeing in the workplace drives productivity, but the findings of this research mean we can go one step further and pinpoint the cultural factors that companies must address in order to translate this theory into reality.
"The research points to the office as the centre of working life still and while we've seen real physical improvements, companies and those who help them design and manage their workspaces must be more progressive still and seize every opportunity to make the physical office the embodiment of a positive workplace culture."
Monica Parker, Workplace Director, Morgan Lovell commented: "These insights show how crucial it is for businesses to integrate behavioural data into how offices are designed. A comfortable physical environment helps, but to deliver a greater return on investment, workplaces need to be aligned with a culture of wellbeing that is uniquely suited to the business and the people on which it depends."
The research shows that not everyone enjoys a working environment that helps their physical wellbeing. The quarter of employees (26%) who believe their office design hinders their wellbeing point to factors such as awkward design preventing them from moving around (72%), lack of colour (80%), greenery (64%) and art (61%) as design elements that need to be addressed.