July 22, 2014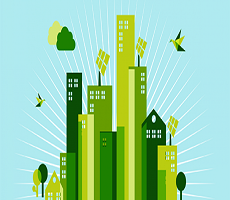 A new report from the British Institute of Facilities Management reveals the lukewarm approach many UK organisations have to sustainable business practices generally and sustainable FM in particular. The study, based on online research carried out in the Spring with the University of Reading found that, while an overall majority (60 percent) of facilities managers think sustainability is effectively integrated in to their businesses, most operate on the 'border of compliancy'. The report makes this conclusion based on the fact that its survey showed that over three quarters of respondents (78 percent) claimed that the main driver for the development of sustainability policies is corporate image and a similar proportion (77 percent). The report concludes that this 'suggests a 'box-ticking' approach to sustainability instead of businesses embracing and investing in longer-term practices and the advantages of spending to save'.
The report also claims that despite ambitious sustainability targets forecast over the coming years and increasing demands of regulation forcing energy and waste issues further up the corporate agenda, there also remains too much of a 'short-term' view among senior executives and board-level who are choosing instead to focus on ROI of a few years versus the longer-term. Further, the findings reveal that reporting is not done effectively enough and that sustainability measurement tools that are available are not being used correctly, or utilised to their full extent, resulting in a lack of evidence-based ROI.
More positively, the increase in regulation is helping engagement between facilities management professionals and senior individuals within their business, helping to improve communication between FMs and the boardroom where policies tend to get sign-off.
Gareth Tancred, Chief Executive of the British Institute of Facilities Management, commented: "While it is encouraging to see that over half of businesses we engaged with are embedding sustainability into the heart of their business practices, it is clear that we need a firm commitment from businesses to 'go beyond' the bare minimum and commit to long-term initiatives that will ultimately prove beneficial for their bottom line, and the wider society. Businesses can't afford to not be sustainable and in contrast to those who think investment in sustainability requires expensive technologies or significant capital expenditure, there are 'lower key' operational and behaviour changes that would make a considerable difference. Sustainability must be spelt out as a clearly defined requirement within contracts and supply chains, and should be embraced in the 'culture' of a business – by all employees regardless of department or job role. As one of the biggest contributors to the UK's environmental impacts, the FM and property industry has a crucial role in meeting national sustainability targets. We would like to see more innovation and firm commitment for businesses to adopt ongoing practices that are resource efficient and resilient."