May 13, 2019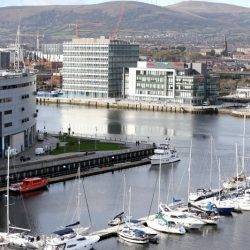 The Belfast office market is one of the UK's best performing when it comes to returns for investors, significantly outstripping cities such as Manchester, Liverpool, Glasgow, Cardiff and London, a new property report claims. The Northern Ireland Commercial Property Investment Review (registration), produced by Ulster University and global financial company MSCI in collaboration with RICS commercial property firms, benchmarked the Northern Ireland and Belfast market against their UK and European peers.
Launched at an event in Ulster University's Belfast Campus, the review claims that whilst the local commercial property investment market overall saw a marked slowdown across 2018 due to Brexit uncertainty and the ongoing transition within the retail sector. At the all property level the Northern Ireland commercial property produced a Total Return of 1.7 percent, the report found, compared with Wales 0.2 percent, Scotland 3.6 percent and 4 percent in the case of England (excluding London).
However, the office sector in Northern Ireland continued to outperform, delivering another year of double-digit returns for investors in 2018. Looking at the Belfast office market specifically reveals an even more positive story, where returns were 12.4 percent. This was well above the UK average of just over six percent and the European average of eight percent.
RICS Regional Manager, Susan Mason, said: "This is the only independent analysis of the Northern Ireland commercial property sector that benchmarks it against other regions and cities, so it is an extremely valuable report that will be of significant use to surveyors, investors, and others in the property sector."