September 21, 2018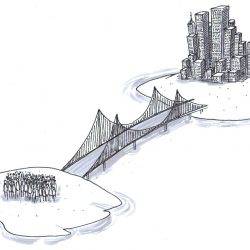 The world of work is changing rapidly and profoundly in a way that we haven't seen since the time of the industrial revolution. Yet even as we stand at a momentous, game-changing inflexion point, the 21st century workplace strategy sector is still dithering about whether to join in the revolution. They are like the industrial mill owners of 19th century England who adopted a 'make do and mend' approach to business and failed to invest in new technology only to be forced out of business by foreign competitors who had invested in radical new, state of the art technology.Today the technological game changer is digital technology rather than weaving technology, but the effect is the same. Unless the workplace strategy sector embraces change and builds bridges between the 'people' side of the business and the 'place' side with other workplace specialists, their industry will become as dead as a dodo.
Workplace strategy needs to become more than just a tool to improve efficiency and thereby reduce property costs. It has to change its mind-set and embrace the notion that they exist not to manage cost centres, but to drive value for the whole business by creating a physical workplace that enables the next generation workforce to work in an agile productive way.
People and place are a company's most valuable assets and only by developing them both in tandem will you unlock their true value and discover that the integrated whole is more than the sum of its discrete parts. Or to put it another way, creating communities of common interest will do more to generate value than building show piece warehouses to house departmental silos. It's no longer about servicing buildings or people contracts it's about enabling people to deliver greater agility, creativity and innovation. This is an approach that is guaranteed to get the attention of the C suite.
A new crossroads
I believe that we are truly at a crossroads, facing a future in which "change," is the one, common thread; a shift in focus from delivering building-centric to people-centric solutions. We have an opportunity to redefine the industry to improve our contribution to our enterprises. In doing so, we will make better use of the built environment. As stewards of these valuable assets, we have a responsibility to the generations that follow us to leave a richer legacy for them to enjoy. But let me be clear – unless the workplace strategy sector embraces this opportunity, their jobs won't exist in a few years-time. They will have disappeared like the dodo.
There has been a lot of healthy debate on how to deliver smart workplaces and it has been going on for decades. This is backed up by the likes of Frank Duffy who bemoans the fact that we have been grappling with lots of issues about making the best use of the workplace for years. Frank's key question remains unanswered: how do we justify "place" in an increasingly virtual world. I believe it's all about enabling work.
The digital revolution is creating a tidal wave of change where the old definitions of 'the workplace' no longer apply. Most organisations are trying to craft a meaningful response to this tidal wave of change; they are all searching for new and better ways of making a margin and driving productivity. They're trying hard to become lean and agile. However, they are hampered by the volatile and uncertain nature of the world and of the workforce, as talented people become harder to find and to retain. For those of us in the business of enabling and supporting work, we will need to grasp these fundamental principles of change, as the implications are significant. We need to adjust from a purely building-centric focus to a wider one which centres on people and enabling them to work anywhere and anytime. I think the key word for the future will be "productivity" and the way to increase that will be by building bridges with workplace disciplines.
Some commentators viewed 2013 as a tipping point when things digital really gained critical mass. For example;
Financial Times digital subscribers outnumbered print subscribers.
The BBC IPlayer saw more downloads to mobile devices than to the desktop.
Christmas 2013 has been widely recognised as the tipping point for online shopping in the UK: the moment that history will look back on, when UK consumer habits changed forever from traditional to digital shopping. Bricks and mortar became 'clicks and bricks.'
Technology and the effect on space
The long-awaited arrival of reliable, enabling technology has really started to make a difference to how we think about space utilisation. In a nutshell, most organisations will be using less space. If the experience of the BBC is anything to go by, where the Corporation was able to take out 30% of its entire property portfolio, then the entire demand/supply equation could alter significantly. This means that consumers could have a real voice in how space is provided, specified, and we can engage in a much deeper discussion about life-cycle costs and the sustainability agenda. Maybe, in the case of the UK market, we can revisit the medieval landlord and tenant relationship whilst we are at it? Surely there is now a case for the development of a new range of post-feudal solutions?
In short, we now live in an always-connected world where the rules of the game have changed, before our eyes, over a very short period of time. This, we believe, is changing the very nature of work. If you compound these elements with the huge cloud of uncertainty of the global economy and the seismic shifts taking place in how we think about the world and its markets– it's clearly evident that this is a highly challenging time for business.
For those of us concerned with the physical aspects of the workplace, we need to adjust from a purely building centric focus to a wider one focused on people that enables them to work anywhere and anytime. We need to evolve from a narrow disjointed focus which is based on the three tribes of the asset/transaction management, facility management and design construction management, to a more holistic approach. We need to reinvent ourselves as value deliverers rather than cost controllers. And to do that we need to build bridges with other players before it is too late.
It's time to move beyond cost control and efficiency and nail responsibility for effectiveness. This, for many, may be outside our comfort zone; but as Frank Duffy said: "we live in an increasingly virtual world and we need to justify the role of "place" in the overall jigsaw." I contend that the virtual world is approaching far faster than most of us realise and the time for debate and introspection is over.
This institutional sluggishness is compounded by the inward looking nature of the industry and legacy mind-set that demonstrates reluctance to change. Overall, the industry is not really aware of how to create value outside of property value – adding business value is an alien concept when it should be a core element of business thinking. A workplace should no longer be regarded as a high cost liability but as an asset from which hidden value can be unlocked. It is no longer a cost centre but a profit centre. Work is no longer a place you go to – it's a state of mind.
Caroline Waters, former director of People and Property at BT and I have been collaborating for many years on various projects. We came together from different silos of workplace strategy: she came from a senior HR position at BT and I initially from a CRE perspective as head of commercial real estate at the BBC.
Over time we concluded that we are actually all travelling on the same road – towards supporting the business. For me, this has been an important consideration: something which has encouraged me to start thinking outside the traditional mind-set of a building professional. Over time, I formed the view that, the key to adding value is to learn how to collaborate cross-functionally with the wider business world, including HR and technology (amongst others). Indeed, this is why my title became 'Head of Workplace' to reflect this new approach.
Harnessing the physical workplace
A recurring theme in our discussions about how we could support the business to deliver value was how to build 'Agility' by harnessing the physical workplace to get the best from the next generation workforce. Coming from the worlds of HR and CRE/ Facilities, where performing within silos remains the order of the day, we discussed our experiences of what it takes to create a truly flexible and agile working environment. We identified that we face many common challenges today such as; trying to stay ahead of the business, learning how to manage wider business changes, and how to cope with the relentless pace of change brought about by the Digital Revolution.
Furthermore, we share the view that it is now essential for the HR and CRE/Facilities functions to join forces and apply a more integrated approach to supporting the business. In shaping a new path and looking towards the future, we need to consider three focus areas:
Align with the business
Leave bricks & mortar, policies and procedures behind
Break down the boundaries to collaborate as high performing teams
In our discussions, Caroline and I came to realise that greater collaboration across boundaries is increasingly important. It's no longer about cost-reduction; it's about bringing a fresh mindset towards creating value for the whole business. The realisation that it's not just not about the building – the bricks and mortar – enabled me to get a better grasp of how we can not only drive efficiency but also contribute to the effectiveness agenda. In this way, we will add real value to our organisations by enabling them to capture greater collaboration, creativity, engagement, functionality, innovation, morale and most of all productivity.
In order to create a truly flexible and agile working environment with a particular focus on the cultural aspects; it is now essential that People/HR and Property build a more integrated approach to the business as a whole.
If we are to emerge from the darkness of our caves of professional self-interest, the first area of focus is to align with and understand the nature of the business we are supporting. As a first step we need to understand the big picture of business in the 21st Century – I think this can be summarised in one word – change. Today we're caught up in a tidal wave of change that is unprecedented and unrelenting. Take for example the recent crop of innovation technologies which have changed the meaning of time and place.
Most professionals are introspective by nature in that they are trained to be high performing subject matter experts and whilst this is not at issue, one has to consider the changing nature of the business environment in which we operate. Many of the goalposts are shifting and most organisations are trying to cope in a volatile, uncertain, complex and ambiguous (VUCA) business environment where the role of those responsible for enabling business must be reinvented. Experts need to look beyond their silos.
As organisations of all types try to make sense of this rapidly changing world, the key focus is on people. The collision of multiple generations for the first time in the workplace is driving many leaders to accept that we need to re-think the concept of work as no longer a place you visit, but something you do.
It's all ab out collaboration
Organisation collaboration will be key and will drive the formation of new 21st century business models with little bearing on the Taylorist inspired models that are fast running out of steam. These are driven by the need of Boards and CEO's to harness the value enablers of creativity, knowledge management and ability to cope with ambiguity. They must move to a business model where engagement, flexibility, authenticity and sustainability are evident. Without making this transition, they will fail to attract and retain the 21st Century worker (most of whom will be Digital natives). Therefore this potential new business model binds together those whose primary focus is that of the Workplace regardless of how it is defined/interpreted.
The recent shift to mobility (which empowers 21st century workers to work anywhere, any time) has raised a whole new agenda for those of us interested in driving change. During my tenure at the BBC my principal concern was to turn property into a strategic asset. Over this transformational journey, we sought to understand how broadcasting was changing in order to anticipate the needs of the BBC in the digital age. The BBC's move from analogue to digital taught us how to see the bigger picture: we started to look beyond rent per square foot or building specifications to grasp the wider, positive impacts which a relocation could make on enabling organisational evolution. With this in mind, whenever a new facility is required it should never be seen as just a "property move" but rather a valuable business opportunity to drive change and align with strategic goals.
In the pre–digital age, for those interested in bricks and mortar, the core principle was 'location, location, location.' The arrival of the agile or mobile worker and the death of distance is now challenging this perception. Locked in its 20th century mindset, the majority of the commercial property industry clings to the belief that an organisation's most valuable assets are bricks and mortar rather than people. We need to move to a much wider frame of thinking that of the 'Ecosystem' not just of the physical but embracing all aspects of the 'world of work'
For too long, CRE/FM and HR professionals have honed their skills on producing high specification commercial work spaces or state of the art HR tools and systems. Historically, this work has been completed in isolation, without taking into account that we are just small cogs in a much larger system – that of enabling a business, a public body or a social enterprise. So how do you change that mind-set in workplace strategists? You could start by asking the following questions:
How does an organisation's working environment, people and technology influence performance, risk, reputation and brand?
What insights do HR, IT and FM have for the future of workplace?
What is the scope of the overlap between the worlds of FM and HR? To what extent are they distinct professions or simply cohabiting elements of workplace enablement?
How are the professions currently integrated and what opportunities are there for greater collaboration? What needs to be done to make this happen?
As a first step, for all those who remain comfortable in our own silos, it's time to lift our heads above the parapet and capture what's going on in the outside world. Then we need to place adequate emphasis on business outcomes and benefits as opposed to just thinking about outputs. We need to stop focusing solely on efficiency and make "effectiveness" a key priority. Fundamentally, there is a need to redefine our value proposition from simply a support functions to become strategic enablers of productivity, where we apply strategic insight to empower organisations to achieve real competitive advantage. In a nutshell, it's no longer about building or system performance but about business performance.
And finally – so what?
So what? Many may point out that we have been talking about this for ages. By breaking out of our silos we have a chance to try for a better approach to how we think about all aspects of how work is enabled. In our session at the IFMA conference we talk about going on a new journey not as self- centred professionals with our individual agendas but as a part of a new crusade based on a very different if not disruptive approach to how we look at Workplace issues. The industry cannot keep burying its head in the sand; the time for real action has come and the debate can no longer be ignored. Stay tuned for more information.
______________________________________________________

Chris Kane is the Principle of Chris Kane Associates. This feature first appeared in Work&Place. Illustration by Simon Heath @SimonHeath1