February 22, 2017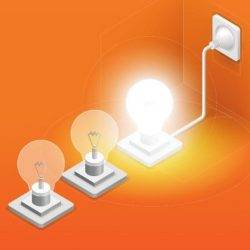 Most North Americans believe their employers and IT teams should be doing more to unleash their capacity for innovation, according to a new study by Softchoice, a North American provider of IT solutions and managed services. The study, Enabling Innovation: When Actions Speak Louder Than Buzzwords, found just 37 percent of employees believe their employers are very innovative, and even fewer felt their organisation did a good job with other leading innovation indicators, such as anticipating market trends, taking risks, and investing in technology that enables innovation. The study is based on a survey of 1,000 full-time employees and 250 IT decision-makers across the U.S. and Canada to uncover whether workplaces really walk the walk when it comes to having the right leadership, culture, processes and technology tools to drive innovation.
"While the formula for innovation is different from one organisation to the next, we know it requires strong leadership that stimulates disruption from the outset," said David MacDonald, President and CEO of Softchoice. "Leaders that are willing to take risks and challenge employees to think like entrepreneurs will encourage the next big idea to bubble up from anywhere in the organisation – and technology is the secret sauce. Perception is reality. When employees see their leaders as champions of technology, they're four times more likely to perceive the entire organisation as innovative," MacDonald said. "Having the right technology also means employees feel more empowered, big ideas come to fruition that much faster, and IT spends less time in a supporting role and more time working with the lines of business on projects that drive innovation."
Additional highlights from the study include:
Business leaders are stuck in their comfort zones: Only 20 percent of full-time employees say their organisations' leaders are very open to taking risks, and only 18 percent say they are very comfortable with risking failure in pursuit of innovative solutions.
Having a framework for innovation doesn't guarantee results: 69 percent of full-time employees say their organisations have formal processes for identifying, developing and implementing employees' innovative ideas. However, only 36 percent of employees believe valuable ideas can come from anywhere in their organisation, as opposed to a select group that have the executive's ear.
IT and end users don't always see eye to eye on technology spend: 93 percent of IT decision-makers say their IT infrastructure and platforms serve their organisation's innovation needs, yet 76 percent of employees want more investment in technology that supports innovation.
IT leaders lack face-to-face communication: 90 percent of IT decision-makers are satisfied with the level of collaboration between their teams and other departments, but 75 percent of employees wished their IT leaders would be more proactive in suggesting new tools that will drive innovation.
The cloud supports innovation: In organisations that manage at least half of their applications in the cloud, IT is more likely to work proactively with employees to understand their business challenges (72 percent v. 55 percent) and be able to pivot very quickly to accommodate end users' needs (61 percent v. 34 percent).