February 22, 2017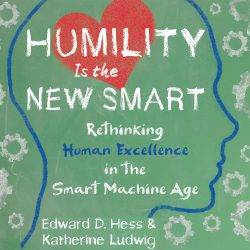 University of Virginia Darden School of Business Professor Ed Hess and Katherine Ludwig have released a new book, Humility Is the New Smart: Rethinking Human Excellence in the Smart Machine Age (Berrett-Koehler, January 2017), where they wrestle with the defining workplace question of our era and offer workable solutions for employees to stay relevant. In the book, Hess and Ludwig argue that workers of the world stand at the brink of an unprecedented transformation, as a coming age of smart machines promises to eliminate tens of millions of jobs across the socioeconomic spectrum. The transition to an era of widespread automation will be tumultuous for both companies and employees, and its effects on the fabric of society have not yet been fully considered by workers, government entities or global corporations.
Hess and Ludwig offer actionable insights for coping — and thriving — in the new era, describing how to excel at the critical skills that machines can't replicate. "We are on the leading edge of a Smart Machine Age led by artificial intelligence that will be as transformative as the Industrial Revolution was for our ancestors," said Hess, author of the best-selling Learn or Die. "When it comes to smart machines, we cannot stay relevant using the traditional mindsets, culture and leadership model. To excel, we have to play a different game."
According to Hess and Ludwig, the key to success in the new work world will require a change to people's conception of what it means to be smart. To excel at what the authors term the NewSmart, humans must embrace a mindset of humility and excel at the four critical behaviours that enable critical, creative and innovative thinking and high emotional engagement with others.
The authors call humility the pathway to human excellence and define the trait as "a mindset about oneself that is open-minded, self-accurate and not all about 'me.'" Drawing on extensive multidisciplinary research, Hess and Ludwig emphasise that the key to success in this new era is not to be more like the rapidly proliferating smart machines, but to excel at the best of what makes us human.
Humility Is the New Smart was released on January 17 and is available for purchase at Amazon although, as usual, we'd prefer it if you ordered through a local book shop.
Hess, a professor of business administration and Batten Executive-in-Residence, is the author of 12 books and numerous articles. He is an authority on high-performance businesses and leadership, with a focus on growth, innovation and learning strategies, systems and processes. Ludwig is a research, editing and publishing associate at Darden and a former corporate attorney.