November 16, 2018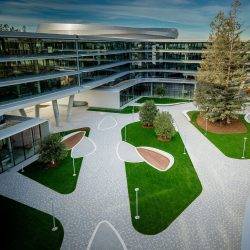 An expert panel at this week's Welcome to the Biophilic Concrete Jungle event in London made the case for incorporating the principles of biophilic design into the workplace, including for health and wellbeing considerations, the promotion of productivity and to address workplace stress and urban disconnection from nature. HOK organised the event.  Panellists included Joyce Chan, Head of Sustainability and Trina Marshall, Regional Leader of Consulting from HOK, Professor Derek Clements-Croome from Reading University, Alexander Bond from Biophilic Design and Dr Ed Suttie from BRE.
Biophilic design is an extension of biophilia. It incorporates natural materials, natural light, vegetation, views out and other experiences of the natural world into the built environment. The discussion focused on sustainability, the fundamental values behind biophilic design and the emotional connection that people and places have with nature. It was noted that developers are increasingly engaging with architects on these principles when formulating a brief.
Super nature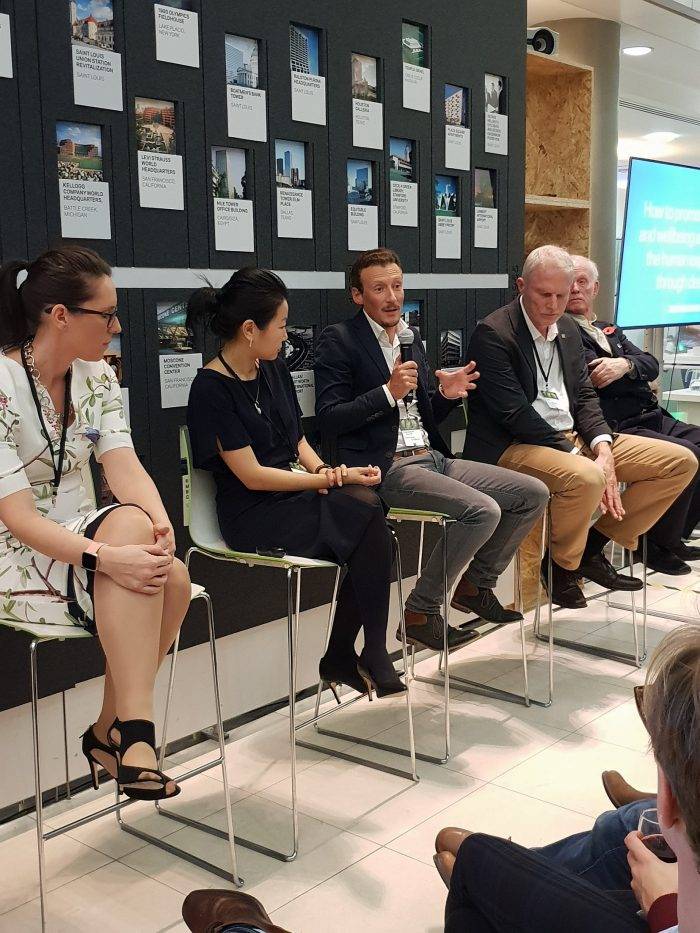 Biophilia goes beyond nature, asserted Alexander Bond. The benefits of well thought-out design, colours, and lights incorporated into biophilic design means there are more than solely 'nature' benefits. It is difficult to translate or quantify the benefits to clients, who often expect to see the immediate effects. For people to feel fulfilled and motivated in their work, they need to engage with plants as people do have an innate interest to be close to nature.
Derek Clements Croome argued that there is a relationship between green elements and energy and sustainability. Looking ahead, biophilia is one important factor that will impact on the health of our nation.
During the discussion, it was also noted that there needs to be more biophilic design in schools, since it impacts the overall well-being of young individuals, helping their levels of productivity and positively impacting their overall health and development.
Finally, another compelling reason for incorporating biophilic design is because technology leads to a fast-paced and stressful workplace environment. Nature brings it back to the basics and allows us to become more in tune with living in the moment.
An holistic approach
Trina Marshall introduced an holistic approach, addressing how biophilic design can be incorporated into the workplace: "The process of biophilic design starts with the client brief, as there is a responsibility for the developer to focus on the needs of the individual who will be occupying the space.
"The incorporation of biophilic design into the built environment means that developers need to be brave, as stakeholders will see evidence that biophilia lowers stress for both the building occupier and society", explained Trina. "We need to find expressive ways through design to achieve it. We are seeing a far more conscious and deliberate movement of people wishing to experience their surroundings more intentionally in return for a more enriched existence."
Joyce Chan considered the user experience, from the street to the office seat, and the transition of the worker between the different spaces they occupy; "There is no concrete formula for biophilic design, as seen with the diversity in client briefs. The brief will vary from client to client. To achieve the success there needs to be dynamic post-occupancy evaluation which considers all the variations at play."
Ed Suttie discussed the three main proponents of biophilia – mental, social, physical wellbeing – serving as three objective measurements for nature and design. People have always been intuitive about nature and biophilic design, elements of nature in design allows creativity and well-being to flourish, which is important when evaluating the potential space for the occupier.
Outcomes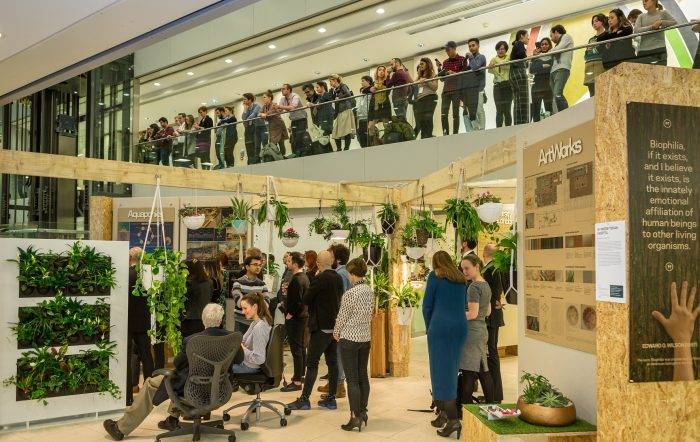 However, the reality is that the wider industry can struggle to acknowledge the value of biophilic design, which is often value engineered out of projects at an early stage.
Joyce Chan noted that new data for measuring its value and benefits is needed to assist with demonstrating the return on investment, as well as to benchmark the successful application of biophilic principles, as data is fundamental to client decisions. Without quality data, we cannot prove the business case for biophilic design. It requires a combination of quantitative and qualitative research to benchmark the combined effect of biophilic design on wellbeing.
Alexander Bond argued that data is subjective, however, the more that data becomes available, the more evidence there is that the biophilic design actually works and is critically important. Trina Marshall added that there is more data than we've ever had access to before, however we need to remain anchored to an approach where data influences design in combination with less 'tangible' influences such as the spiritual.
Well researched neurological and physiological evidence indicates the health and productivity benefits from biophilic design to include:
• 11 percent gains in productivity from fresh air
• 23 percent improvement in productivity from good lighting and access to views
• Up to 25 percent better functioning memory when workers have outside views
• 18 percent increase in productivity through access to daylight
(Source: The Economics of Biophilia, Terrapin, 2012)
In conclusion, it is of paramount importance that the entire value chain from office worker to developer is considered when implementing biophilic design. This powerful tool has the potential to have a profound positive impact not only to design but to our lives.
Main image: Central + Wolfe campus Sunnyvale, California by HOK