October 19, 2023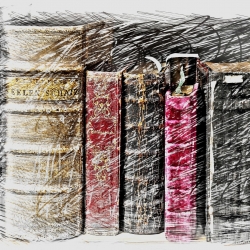 A new study by psychologists at Durham University claims that the best way to create a good first impression on Zoom calls or in any virtual meeting, is a visual background of house plants and books, especially when they are real. In the recent paper published in the Journal PLOS ONE, Associate Professor Paddy Ross and colleagues from  Department of Psychology, investigated what really matters when it comes to making the best and worst first impressions in a virtual meeting environment.
The study assessed the views of more than 160 individuals, who were asked to evaluate a selection of images of people against a variety of virtual backgrounds and with a mix of neutral and happy facial expressions during Zoom calls and other online meetings. The research found that bookcases, plants, and blank walls were the backgrounds that led participants to rate individuals as most competent. Blurred backgrounds, home backgrounds, and novelty backgrounds had the lowest competency ratings. And, as with trustworthiness, happy faces were seen as more competent than neutral faces and men more competent than women.
While on the contrary, comedic or living room backgrounds consistently scored the lowest. The study also suggests that gender has an impact, with women consistently appearing more trustworthy and competent than men regardless of the kind of virtual background. Additionally, a smiley, happy demeanour was found to be an extra ingredient that can help towards creating a trusting and competent impression.
The research also suggest that novelty backgrounds reduced ratings of competence and trustworthiness. The researchers suggest that a simulated home background may imply that the individual is being secretive about their home, thus "inducing perceptions of dishonesty." In terms of facial expressions, the findings bolster previous research that suggests smiling is a sign of "self-confidence, high-self-esteem, and success… which typically result from high agency and competence."
The team identify one significant limitation to their work: the faces chosen for the study were not pre-screened on attractiveness, although previous research has suggested that attractiveness can bolster a sense of competency.