March 2, 2017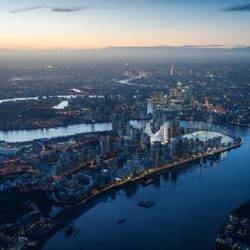 In the two years running up to the Brexit vote, London vied with New York and Hong Kong for the title of most expensive world city to accommodate employees and last year it was crowned the most expensive world class city for international businesses to rent office and living space for their employees. Now Brexit's impact has made the UK look much better value on a world stage as the devaluation of sterling means it now ranks closer to Paris and Tokyo, leaving New York and Hong Kong in a league of their own with much higher accommodation costs. It now costs an average of US$88,800 per person to rent office and housing space in London, well below the price tag of June 2014 of US$124,500, according to the latest Savills Live-Work Index which measures annual accommodation costs per worker in leading world cities. By this measure, London is now 10 per cent cheaper in these terms than it was in December 2008.
In New York the total live-work accommodation package costs an average of US$111,900 per person, albeit this is slightly below the US$114,200 per person peak recorded in June 2016.  At the same time, Hong Kong has continued to close the gap on New York, as new stamp duty charges implemented in November encouraged more people to rent rather than buy and caused a demand shock.  Total live-work rental costs rose 4 per cent in the second half of 2016, from US$100,900 to US$105,900.
New York remains twice as expensive to locate employees as in rival US city of Los Angeles, and 71 per cent pricier than San Francisco.  Similarly, Hong Kong is well over twice the price of rival Asian world class cities Singapore and Shanghai.
The gap between London and Paris has closed from over US$34,000 per person per year to under US$14,000.  However, Dublin and Berlin, both often cited as potential post Brexit alternatives to London, still represent savings of over US$40,000 and almost US$60,000 respectively, and this despite robust rental growth in Dublin across both residential and commercial sectors.
"The real test of whether a city is good value for occupiers lies in how productive an organisation can be in that city and how competitive a city is in attracting human capital to its job market," says Yolande Barnes, director, Savills World Research.  "In many cities, the cost of office accommodation pales into insignificance against the cost of personnel and residential rents will impact wage demands, hence the inclusion of housing in our live-work index."
On average, residential costs constitute 75 per cent of the total accommodation costs recorded in this survey.  In some cities, like Dubai, Dublin and Paris, they are over 84 per cent.
"While accommodation costs are only a small part of a company's decision making process when choosing where to locate teams of staff, this analysis is a guide to the shifting relationship between world cities on an annual basis," says Barnes.
"Cities may become more or less competitive on a short term basis but it is their long term costs that need to be taken into consideration when signing leases or building accommodation.  For successful organisations, business location is a long-term play, not a short-term decision so sound business fundamentals are of course far more important than decisions based on the cost of accommodation at a given point in time.
"London's relative advantage may be eroded if sterling rallies but our view is that the appeal of London as a world city will continue."
Click here to see a table of world cities ranked