May 9, 2014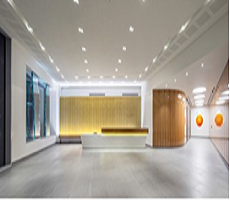 Just a month after its launch, Marble Arch House in London's West End, which includes 61,200 sq ft of new office space over seven floors, has been let by British Land. Fulcrum Asset Management has signed a ten year lease at £78.50 per sq ft, and will move into the 9,000 sq ft fifth floor of the building in the summer. British Land entered into an agreement with The Portman Estate to purchase and redevelop Marble Arch House, located on Seymour Street in the Portman Village, in 2011. The scheme, designed by Bennetts Associates Architects, includes 6,400 sq ft of green roof space, designed to encourage wild grasses, as well as birds, bees, butterflies and other wildlife. The office space features natural light from both east and west, with shading louvres that minimise glare and overheating, while maintaining views towards Hyde Park.
Marble Arch House also comprises 15,000 sq ft of retail space and is adjacent to ten luxury residential apartments built behind the retained period Victorian facade of 62-64 Seymour Street.
James Danby, Director of London Leasing at British Land, said: "Signing our first letting to Fulcrum Asset Management is a significant milestone in the development of Marble Arch House.
"It is evidence of the building's high quality and its excellent location, within touching distance of Mayfair, attracting a significant occupier from the asset management industry. We anticipate further strong demand for space at the building moving forward."