May 12, 2014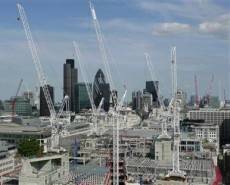 London will be home to 35 new large office buildings before the end of this year making it one of Europe's most important destinations for major corporates wishing to occupy over 5,000 sq. m. of commercial property, according to a new report from Colliers International. The survey of 23 major European cities found that together they will offer just over 800 readily-available and high quality large scale offices to choose from by the end of 2014. The 2014 EMEA Office Report claims that this year will see London become the city with the joint third highest availability of large offices in Europe, up dramatically from 11th place.  London matches Amsterdam in having 60, trailing Paris with 62 and Moscow with 98. London, however, stands out as having a strong pipeline of new large office developments.
By the end of this year the cities surveyed will offer 802 appropriate buildings, 631 of which will be existing offices with 171 in development.
The report claims that in Europe's major cities, around 80 percent of developments are taking place outside what would be considered central business districts. The authors of the report believe that the high level of availability in these areas is down to a reluctance by companies to look beyond core commercial property zones as they continue to lack confidence. But the report also claims that firms will be obliged to consider all options in the very near future as the pent up demand for office space is finally acted upon.
The analysed office space included: "new, recently refurbished, good institutional grade second-hand and properties that are under construction and planned for delivery by the end of 2014". Of the 802 available properties identified 50 percent have been previously occupied, 29 percent are new and 21 percent are in the pipeline for completion by the end of 2014.