September 26, 2018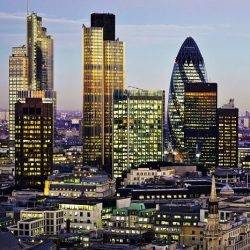 The British Property Federation (BPF) has launched a Technology and Innovation programme for the UK commercial property sector – to support the sector in its digital transformation – following the Government's challenge to all sectors of the economy to improve productivity and deliver growth. The programme is launched with the publication of a new report produced by Future Cities Catapult, commissioned by the BPF, to understand the barriers to and opportunities for improving the productivity of the real estate sector through the application of technology.
The report Lost in translation: How can real estate make the most of the PropTech revolution? highlights that while 50 per cent of PropTech companies focus on sales/leasing, only 16 and 12 per cent respectively apply themselves in construction and investment/financing respectively. Land acquisition and refurbishment have less than five per cent of active PropTech companies. No companies, from the data sources used for the report, fell into the category for demolition/remediation.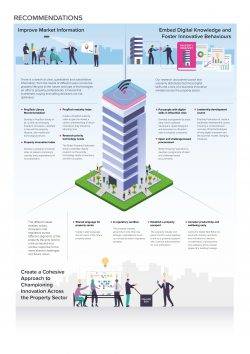 Following a BPF-member survey, interviews and roundtables with key real estate and PropTech leaders, the report finds that there is significant untapped potential for greater adoption of technology to enhance productivity – and that the real estate sector must start by better articulating its pain points across the property lifecycle, so that innovators can better understand where there is more scope for technology to provide solutions.
To improve the sector's engagement in and adoption of new technologies, the report's recommendations to the sector, the BPF and the Government are:
Improve market information – there is a dearth of clear, quantitative and authoritative information, from the needs of different users across the property lifecycle to the nature and type of technologies on offer to property professionals.  It means that investment, buying and selling decisions are not optimised. To achieve this, next steps include:

Proptech Library – develop a library of all current and emerging PropTech innovation, classified in line with the lifecycle, user needs and technological drivers
Property Innovation Index – develop a property innovation index to assess a company's capacity and preparedness for innovation/tech
Proptech Maturity Index – understand the level of maturity of technologies and give the market a better understanding of which technologies they should be investing in now
Research priority technology needs – the BPF is recommended to undertake regular research on the priority technology needs of members and their occupiers
Embed digital knowledge and foster innovative behaviours – the research uncovered scarce and unevenly distributed technical digital skills and a lack of business innovation mindset across the property sector. To achieve this, next steps include:

Put people with digital skills in influential roles – develop a programme to put early career software developers, engineers and designers and innovators in influential roles in property companies
Set up an open and challenge-based procurement platform
Leadership development course – the BPF is to create a leadership development course, including a comprehensive overview of the technologies driving digital innovation and the business models changing industries
Create a cohesive approach to championing innovation across the commercial property sector – the different asset classes, actors, innovators and regulators across different segments of the property lifecycle lead to a disconnected and unclear response to the many shared challenges and future vision. To achieve this, next steps include:

Shared language for the property sector – create a shared vision like the automotive industry has with ACES, to signal where the industry wants to head
Regulatory sandbox – the property industry, government and other strategic organisations to set up a property sector regulatory sandbox with a view to ensuring regulation does not fence out innovation and promotes it
Establish a property passport – the property industry and government to work together to set up a property passport with common data standards for core information relating to buildings
Consider productivity and wellbeing early – Centre for Digital Built Britain to work with industry, architects and innovators to improve consideration of productivity and wellbeing at the earliest stages of building design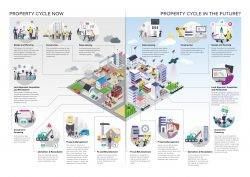 Aligned with and responding to these recommendations, the BPF is setting up a new Technology and Innovation Group for the sector, to oversee its programme and drive closer collaboration across the real estate and technology sectors, to allow the benefits of technology to be maximised, and to preserve and enhance the UK's reputation as a PropTech leader.
The Group will be led by Andy Pyle, UK Head of Real Estate, KPMG and also includes Nick Wright, Senior Director, Strategic Consulting – Investors, CBRE; Susan Freeman, Partner, Mishcon de Reya; Dan Hughes, Founder, Liquid Rei; and James Dearsley, Co-founder, The Digital Marketing Bureau.
Melanie Leech, Chief Executive, British Property Federation comments: "Today the BPF commits itself to provide thought leadership and deliver a practical programme to ensure the real estate  sector harnesses the benefits of technology, in line with the Government's ambition for all sectors to better future-proof themselves, innovate and improve productivity and economic growth."
Stefan Webb, Head of Digitising Planning, Future Cities Catapult says: "Digital tools, technologies and business models have transformed sectors from automotive to aerospace, yet the property sector has proven to be resistant to these forces. Many argue that the sector is too diverse, complex and complicated to be disrupted. However, there is more that unites the different asset classes, activities and actors across the property lifecycle in terms of data and digital than many realise. The choice for the sector seems clear, create a clearer vision, better market information and more collaboration between the sector or wait for someone else to join the dots and create a business that makes the impact of WeWork look relatively benign."
Andy Pyle, UK Head of Real Estate, KPMG adds: "In our 2018 global proptech survey we found that whilst nearly all decision makers in the real estate industry agree they need to engage with technology, two thirds don't have a clear tech strategy. Therefore it is hugely helpful to have an industry wide group to help understand how to respond to and capitalise on the opportunities technology creates. As the industry's representative body, BPF is perfectly placed to do this and I look forward to leading the group."