September 1, 2021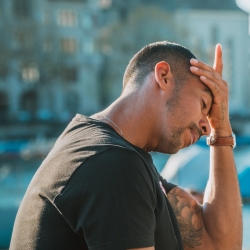 A new study, commissioned by CIPHR, claims that most British adults (79 percent) feel stressed at least once a month, with the average being eight days a month.
Taken over the course of a year, that's 96 days (around three months) spent struggling with stress. Expand that over the course of an average lifetime, and stress could, potentially, be interfering with people's daily lives – affecting their physical and emotional wellbeing – for a staggering 6,048 days (around 16.5 years).
While one in five (21 percent) of the 2,000 UK adults surveyed describe themselves as stress-free, for many people stress has a more constant, and potentially debilitating, role in their lives. Nearly half (49 percent) report being affected by stress for five days or more a month, and nearly a third (30 percent) say it's ten days or more.
Women are more likely to feel stressed more frequently – experiencing stress for an average of ten days each month, compared to an average seven days a month for men. Younger people (18 to 24-year-olds) also typically feel stressed for more days per month than any other age group (9.8 days a month, compared to the over-55s at 6.3 days).
Who's the most stressed out of all? That title belongs to 45 to 54-year-olds, as more than one in ten (11 percent) of them admit to feeling stressed out every single day.
The findings form part of CIPHR's Workplace Stress Statistics in the UK report, examining the incidence and causes of stress (in and outside of work) over the past year.
Common stressors
According to the research, the main causes of stress are not getting enough sleep and financial anxieties (39 percent each), followed by health (35 percent), family (31 percent), and weight worries (28 percent). The next common stressors are the news (24 percent), work in general (23 percent), workload (18 percent), cleaning (16 percent), social media and working hours (both 14 percent).
Being kept awake at night is the chief concern for women (47 percent, compared to 30 percent of men). Unfortunately, sleep deprivation can perpetuate the stress cycle – whereby stress can cause lack of sleep and lack of sleep can cause stress.
For men, money is their biggest stress trigger. Although, it was actually cited by a greater proportion of women in the poll – two fifths (43 percent) compared to a third of men (35 percent). The gender split can also be seen when it comes to worrying about family members, with women twice as likely to be anxious about their nearest and dearest compared to men (38 percent and 22 percent respectively).
Can location impact stress levels? Ask the residents of Wales – they have the dubious honour of being the most stressed about money (45 percent), as well as the second most stressed about their health (42 percent); behind the people of Northern Ireland (47 percent).
Wales also ranked third in the list of populations most lacking in sleep (45 percent). The East Midlands (48 percent) and North West England (47 percent) ranked highest for that.
The most stressed city overall appears to be Plymouth, with 87 percent of people living in and around the city feeling stressed at least once a month. Liverpool and Glasgow tie for second place at 86 percent. Although the data suggests that Belfast locals deal with stress more regularly than anywhere else in the UK, with nearly one in five (19 percent) of them claiming that they feel stressed every day.
In contrast, the least stressed city is Edinburgh – 30 percent of the people living in and around the Scottish capital are, apparently, unfazed by stress (well above the UK average of 21 percent).
Workplace stress
The average Brit could spend over 45 years of their lives working. So, it's fair to say that for most people work – at some point or another – will be a major source of stress in their lives. Tellingly, a staggering 84 percent of survey respondents named one (or more) work-related reason for feeling stressed.
Around a quarter (23 percent) of people blame work in general for being stressful. One in five (18 percent) say it's their workload that gets them down, one in seven (14 percent) say it's long working hours, and one in ten people struggle with their colleagues (11 percent) or bosses (10 percent).
Commuting, once the bane of many a worker's daily routine, appears much lower on the list (at 8 percent) than would previously have been expected. This is probably due to less people having to travel to their office or workplace over the pandemic, and many employers continuing to allow their staff to work from home for foreseeable future.
"It's very likely that people are feeling much more stressed than they've ever been."
Commenting on the findings, Claire Williams, director of people and services at CIPHR, says: "There has been a lot of focus in recent years on workplace stress and what employers can do to safeguard their employees' mental health. Then came the pandemic, and 18 months on it's very likely that people are feeling much more stressed than they've ever been.
"CIPHR's new study illustrates just how much of an influence work has on stress levels. Issues like unrealistic workloads and time pressures, overbearing bosses or toxic co-workers, can trigger severe stress – interfering with people's focus and energy, and having a negative impact on productivity, employee engagement, job satisfaction, and, ultimately, personal health and wellbeing.
"Of course, there are many things outside of an employer's control that can still take a toll on the workforce. Financial concerns and health fears are always going to crop up in everyday life, but things have been even more uncertain and highly changeable since Covid. Whether people work remotely or are workplace-based, everyone is likely to have been affected in different ways.
"These are incredibly challenging times and it's really important that employers look out for the warning signs that individuals are struggling and actively talk to staff about ways to mitigate some of the impact that these work stressors and home stressors may have. Ideally, before it becomes an insurmountable problem for the person themselves and the organisation they work for."
Image by Peggy und Marco Lachmann-Anke