January 20, 2021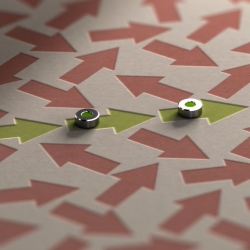 Almost three-quarters (72 percent) of business leaders and 90 percent of CEOs across Europe see organisational agility as critical in driving business performance and growth, yet many are overestimating their capabilities, according to new research from ServiceNow (NYSE: NOW).
The survey of 873 senior decision makers from large businesses across Europe examined the agility of organisations, applying a bespoke assessment model to determine their maturity in this area. Over half of European businesses claim to be very or extremely agile, but the research suggests the majority of businesses across Europe are only at the start of their agility journeys.
A model developed by IDC to measure progress against five types of organisational agility (leadership, structural, process, portfolio and technology) claims that only one in five (21 percent) businesses are in the top two tiers of agility readiness: 'synchronised' or 'agile'. Almost half (45 percent) of businesses are categorised as 'in motion', in the middle of the journey, while 34 percent sit in the lower tiers of 'static' or 'disconnected'.
"Agility is not a destination, it's a journey"
Phil Carter, IDC Chief Analyst Europe comments, "Although few organisations have fully embraced agility, the urgency to become more agile is now clearer than ever. It's not only about surviving, it's about succeeding and to do so companies need to break the cycle of keeping pace to accelerate change. But to know where to go you need to know where you are today and start building your own compass towards agility."
Agility brings benefits
Those businesses categorised as agile or synchronised cited clear benefits. Almost two thirds (65 percent) of business leaders in these top two tiers said they are either recovering or returning to growth, compared to just under a third (30 percent) of those in the lowest two tiers.
"Agility has long been recognised as a driver of business success, enabling companies to organise themselves in a way that prioritises efficiency and adaptability," says Chris Pope, VP Innovation at ServiceNow.
"The research has identified a clear link between agility and tangible business outcomes, which is vital for businesses that are currently operating in the dynamic COVID economy. From customer experience to time to market, we can now prove a true correlation between advanced agility and better business performance."
Building customer relationships
However, budgetary and revenue benefits only tell part of the story, as agile businesses are making clear gains in other areas of business performance as well. Over half (53 percent) of agile businesses performed excellently in terms of customer experience, compared with fewer than a fifth (16 percent) of organisations overall.
This success is driven by flexible operating models, which allow businesses to quickly pivot to customer preferences and continuously integrate their feedback, increasing overall customer satisfaction and loyalty.
There is also an argument that this high level of customer experience is driven by a satisfied and skilled workforce. The research claims that agile companies outperform the market average by 10 percent with respect to talent attraction and retention.
Reaching the market faster
The ability to accelerate decision cycles and budget planning can give organisations a route to develop new solutions faster and more effectively. Just under half (47 percent) of agile organisations consider themselves best-in class in time-to-market compared with a 13 percent average across all European businesses. And over a third (36 percent) of agile businesses reported an excellent market performance measured in market share wins compared with a 15 percent European average.
Moving forward
"Agility is not a destination, it's a journey," says Chris Pope, VP Innovation at ServiceNow. "The majority of European businesses are neither lagging behind or charging ahead, but sitting in that middle zone of having started without yet achieving their full potential. With only one in five European businesses currently in the advanced stages of their journey, there is a huge opportunity to drive agility into every aspect of their organisation.
"By partnering with experts who can show them how to harness this potential and build sustainable agility infrastructure, businesses can be ready, resilient and adaptable in the face of any future challenge, with the ability to bounce back and return to growth with confidence."
Image:ServiceNow