July 25, 2016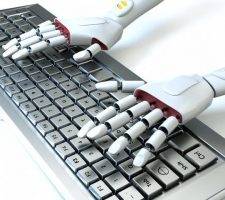 Businesses are ready to embrace the new era of robot workers, automation and artificial intelligence, according to a new report. The Robotic Workforce Research study by AI specialists Genfour claims that more than half of respondents globally are ready to embrace the arrival of robots in the workplace. Almost half of respondents believe that between 10 and 30 percent could be subject to automation. Across all businesses in the UK and US, 94 percent responded that they would either embrace robots or felt a robotic future would be inevitable. Almost half (46 per cent) of UK businesses say they are set to welcome robots at work. A similar proportion (47 per cent) believe it is inevitable, and a third (32 per cent) believe they'll be able to automate as much as 20 per cent of their business as soon as the technology becomes available. Just seven per cent are worried robots would steal jobs and 16 per cent currently have not planned automation.
In the US, over 57 percent embrace the idea of robotics, while 37 percent believe it is inevitable, and only 5 percent are scared of a future where robots are in the workplace. By comparison, in the UK, almost half of respondents (46 percent) embrace the arrival of the robots, 47 percent feel it is inevitable evolution, and 7 percent are concerned about a future where robots steal our jobs. Only 12 percent of businesses in the US aren't considering any form of automation at present.
In the US, over one third of business leaders believe transformation will be fast, and have plans in place now (38 percent). Over half of all business respondents believe the shift to an automated world will be gradual, and take place over the next two or more years (52 percent).
Globally, over one third of businesses globally report they are considering automating between 11-20 percent of the business, in the US 24 percent believe automation could take place of as much as 21-30 percent of business processes; in the UK 32 percent of respondents believe 11-20 percent could be automated.
James Hall, Genfour CEO, commented: "These statistics show a very different picture from the negative portrayal of the fear surrounding robots and automation we see all too often. Business leaders see automation as a way to increase productivity, reduce repetitive and mundane tasks and create efficiencies in the back office. It's our job to elevate the power of automation out of departmental level and into the board room."
The research surveyed 250 business heads of department and managers across organisations in the US and UK respectively, on their views on the advent of the robots, and uptake within their business departments. Half of the respondents, largely in intermediate or higher managerial positions, classed themselves as 'sole decision makers' within businesses of 50-1000+ employees. The research was carried out among a range of sectors including business services, finance and banking and manufacturing.
Other key findings include:
IT is the department committed to AI or robotics or looking for processes to be automated (50.2 percent of global business state 4-5 on the commitment scale, 5 being the highest), followed by operations (43 percent) and finance (35.4 percent).
HR departments appear polarized with the highest number of 'no commitment' responses (33 percent), being offset by the highest number of 'very committed' responses (44 percent). The survey reveals that organizations believe the lowest level of commitment is at board level (28 percent). In every department, belief in the US levels of commitment to automation topped those in the UK.
Construction is the industry with the most aggressive plans to automate, with 50 percent of respondents stating they have imminent plans in place.
Demographics also impact on views on an automated future. Approximately 60 percent of 18 – 44 year olds selected they 'embrace [automation]', this drops to around 40 percent of those aged above 44. The small group where the view is 'scared and worried about a future where robots take out jobs' is highest in the 45-54 age range at 9.1 percent, and goes down to just 2.3 percent of 25-34 year olds.
Respondents were asked about the key effects and benefits robotic automation would have on the business. Productivity and 24/7 availability ranked 1st and 2nd highest in terms of the benefits (62 percent and 61 percent respectively), followed by 58.4 percent of respondents agreeing "the end of repetitive work" as a top benefit.