February 2, 2018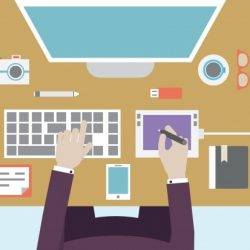 Over half of UK workers (53 percent) say that the standard of technology is a key consideration for accepting a new job role and more than 1 in 3 (37 percent) would decline a job based on poor hardware alone, claims a new survey. The survey of over 2,000 British adults carried out by gadgets and technology e-tailer, LaptopsDirect.co.uk found that having the latest technology was valued more than other office perks, such as flexible working (45 percent), the working environment/decor (39 percent) and staff discounts (33 percent). Nearly a quarter of respondents (74 percent) overall, believe technology makes them more productive at work, with workers in marketing valuing technology the highest, with 84 percent of the votes, followed by those in creative and photographic (81 percent), information and communications (78 percent), professional services (73 percent) and education (71 percent).
Mark Kelly, marketing manager at LaptopsDirect.co.uk, said: "It's no surprise that the latest technology is important for many of us when considering a new role. It appears that some employers may be focusing too much on other perks such as office design or providing staff discounts and are missing the basics.
"Whilst these perks may still be important for attracting new talent, access to the latest technology enables employees to be more productive, and so has a better impact on the overall business. Also, everyone will have worked with slower, old technology at some point in their careers and experienced frustration.
Kelly continued: "Therefore, finding a balance of office perks is key to recruiting the best candidates and can also ensure that employees feel valued and happy in their jobs."
The Top 10 Sectors Who Value Technology for A New Role:
Marketing – 84 percent
Creative and Photographic – 81 percent
Information and communications – 78 percent
Professional service (law, accountancy) – 73 percent
Education – 71 percent
Healthcare – 59 percent
Trades (construction, plumbing) – 47 percent
Manufacturing – 43 percent
Retail – 35 percent
Transportation – 33 percent