November 1, 2018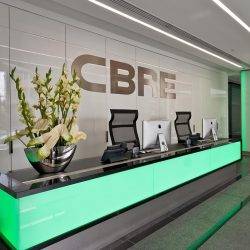 CBRE, one of the world's largest commercial property firms has launched a flexible office service that will compete with groups such as WeWork and IWG, who own the Regus brand, for corporate tenants. The company has appointed a former Zipcar executive, Andrew Kupiec, to head Hana, a new wholly owned subsidiary that will operate flexible offices aimed mainly at larger corporate clients. Unlike its competitors Hana will not lease office spaces from landlords; instead, it will partner with them through joint ventures.
According to CBRE, Hana's core offering is called Hana Team, which will provide private office suites that meet the needs of large corporate users of office space. It claims that Hana Team 'combines the benefits of flexible space with the amenities, technology, thoughtful space design, and control over branding and culture that sophisticated corporations require'.
Each Hana facility will also feature two other integral offerings, Hana Meet and Hana Share. Hana Meet provides conference room and event space that can be rented on an hourly, daily or weekly basis. Hana Share provides traditional co-working space in which users share services, amenities and technology in a communal setting.
Hana will partner with institutional property investors who want to differentiate and enhance their assets by meeting the growing demand for flexible office space. Hana will design, build and operate the facilities and services, and will participate in the financial success of each Hana facility.
"The way space is being used is evolving rapidly. Companies want the flexibility to adjust their occupancy to meet changing business needs and a better workplace experience to attract and retain top talent," said Bob Sulentic, CBRE's president and chief executive officer. "Hana is perfectly suited to meet these needs. Reflecting this, we have already generated significant interest from building owners who are looking for a trusted partner to help deliver flexible space offerings, and have a robust deal pipeline."
Hana will operate as a wholly-owned subsidiary of CBRE and, beginning in 2019, will be the third component of CBRE's Real Estate Investments business – along with investment management (CBRE Global Investors) and development services (Trammell Crow Company). The Hana team is led by Andrew Kupiec, chief executive officer of Hana, who joined CBRE from Zipcar in 2017, and Scott Marshall, Hana's president and chief development officer, who previously led CBRE's investor leasing service line in the Americas.