July 29, 2015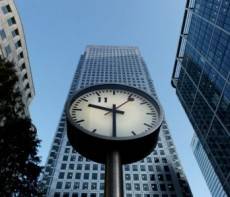 Employers in the City of London are increasingly open to the idea of flexible working, claims a study of 1,000 workers by recruitment firm Astbury Marsden. According to the study, a third of men working in the City (34 percent) say they now have some flexibility over the hours they work, whether through flexi-time, working a certain number of hours annually or compressed hours. This is up from 28 percent last year. Meanwhile a smaller proportion of female City workers (30 percent) claim they now have the option of flexible working, up from 23 percent in 2014. The research indicates that although women in the City are more likely than men to work part-time or term-time hours or job-share, with over a quarter being able to do so (26 percent), almost one in five men (18 percent) say they also have this option available to them.
The study claims that 52 percent of men and 53 percent of women in the City have the ability to work from home on a regular basis. It also claims that that this trend is being led from the top – with 54 percent of Managing Directors and a third (33 percent) of Directors/Executive Directors now having the option available to them to work flexi-time, annual or compressed hours. This is up from 22 percent and 28 percent respectively last year.
They are also far more likely to work from home regularly than the average, with 64 percent of MDs and 68 percent of Directors able to do so, up from 50 percent and 48 percent last year.
Adam Jackson, Managing Director of Astbury Marsden says, "These figures suggest that the City is becoming far less rigid about its working patterns with more and more staff able to choose to work outside of standard office hours. City employers are also having to compete with FinTech companies for the same employees so they are having to show, that like the tech industry, that they can offer flexible working.
"This research indicates that the City is fully embracing an equal opportunities approach, with flexible working options increasingly being extended to a larger pool of City workers. Although a long hours culture is still the norm, City firms are becoming more open to the idea of giving workers greater freedom over when they start and finish or what days they work, giving them more leeway to fit in family or other commitments.
"More dual income families require employers that take a flexible approach and more working fathers in the City are choosing flexible working hours. Employers are increasingly seeing the benefits of allowing staff to work in a way which suits them. They are recognising that this shouldn't impair productivity and performance and that it can act as a powerful retention tool as workers feel valued and trusted to take greater control of their working day.
"As employees become more senior, they may become more trusted by their employer, so the working relationship can become increasingly flexible and accommodating to personal circumstances and individual needs the further up the career ladder you go. There's often less scope for flexibility at the junior end of the spectrum, as these employees are often supporting senior staff who need to be able to rely on them working at particular – more standard – days and times."