July 29, 2015
As we reported last week, the UK public sector is embracing some interesting new ideas in the way it uses real estate, especially its commitment to get rid of some of it by adopting flexible working and shared space. However, it's one thing looking to use space in more flexible ways but without the technological infrastructure, it's hard to see how they will be able to achieve as much as they could. It is in this regard that they are lagging behind their contemporaries in the private sector, according to a new report from O2 and YouGov. While the report, Redefining selling, serving and working, offers up the usual appeals for us all to make more use of the sorts of things O2 wants us to buy, there is plenty of interesting detail to tease out once the pinch of salt has been applied, not least how business practices and the way people use technology vary across sectors.
The headline figure from the report is that by failing to embrace new ways of working, Britain's organisations across all sectors could be missing out on a saving of 6.6 million hours and £1.6 billion each week. The report argues that the use of technology to create more flexible working practices could be a major driver of organisational savings and increased productivity. Companies 'challenging the norm' of the working day by maximising the benefits of technology are enjoying greater business efficiency with devices alone saving businesses 9.4 million hours and £2.2 billion per week.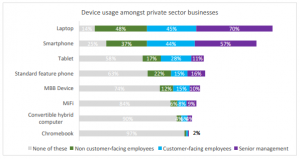 The study claims that just under half of workers (46 percent) would like to adopt more flexible working practices but are held back because many  employers (52 percent) lack the kind of integrated digital strategy needed to make it work to its potential. The private sector has a clear lead in this regard with 55 percent of commercial managers who responded to the survey saying they had an integrated digital strategy compared to just 42 percent in the public sector. Those in the financial services sector (66 percent) were particularly likely to have an integrated business and digital strategy.
The report claims that key flexible working technology including mobile devices and apps are saving the UK's largest private sector employers a combined 11.1 million hours and £3.3bn a week but just 3.3 million hours and £869m a week in the public sector, according to a new YouGov survey.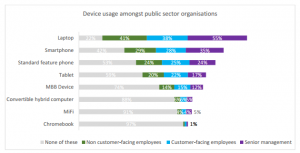 The survey of just over 3,000 people also found that around nine out of ten private sector organisations used laptops for work, with three quarters using smartphones and 26 percent using mobile broadband. Meanwhile in the public sector, eight out of ten organisations use laptops, 58 percent use smartphones and 26 percent mobile broadband, but 47 percent use feature phones for work purposes – a quarter of which are used by senior management.
Interestingly, senior managers in the public sector are far less likely to have a laptop for work than their private sector counterparts, with 55 percent and 35 percent having laptops and smartphones compared to figures of 70 percent and 57 percent respectively. The report concludes that many are still saddled with traditional devices including what it calls 'feature phones'. Intriguingly it is office-based staff in the public sector who have greatest access to technology rather than frontline staff, whereas use in the private sector is more likely to be determined by role.
These findings echo the results of a recent Freedom of Information (FoI) request submitted to local authorities across the UK by software firm Citrix which found that councils issued nearly four times more mobile devices in 2014(8,932)  than in 2010 (2,525), ostensibly to encourage more mobile working practices. Yet, of the 30,000 handsets issued since 2009, Citrix also discovered thatover 11,000 of those are feature phones which allow people to call and text but do not offer access to data.
For those businesses that have introduced what the O2 report terms an 'Anywhere Office' policy, greater efficiency is cited as the greatest benefit, while a third (31 percent) think that using technology such as smartphones and collaboration software at work allows them to save time during their working week.
Other key findings from the study include:
Employers believe that flexible working:
Improves colleague collaboration (55 percent)
Facilitates greater business efficiency (44 percent)
Leads to increased customer satisfaction (37 percent)
Of the sectors that are adopting the 'Anywhere Office':
Four fifths (80 percent) of senior managers in the professional services sector agree that remote working is becoming increasingly common in their organisation
This compares to just 58 percent in the retail and leisure sector
O2 has issued 5 key pieces of advice to businesses on how to introduce an Anywhere Office
Introduce flexible working hours, allowing employees to work at times of the day that suit them
Equip employees to work securely from anywhere – this can be easily achieved by something as simple as ensuring that every employee has a company laptop, mobile or table
Provide access to fast and reliable connectivity
Get a web-based data storage service, which allows employees to simultaneously work on a document from wherever they are
Make journeys more efficient – arm employees with the tools to make journeys a productive part of the working day