March 14, 2013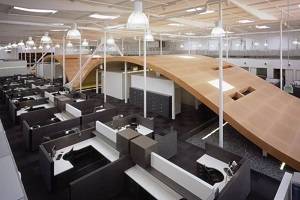 There is a growing trend in the United States to downsize office space, particularly amongst larger public firms, as they increasingly adopt policies for sharing non-dedicated offices and implement technology to support their employees' ability to work anywhere and anytime. In a webinar presented to subscribers of commercial real estate intelligence group CoStar, Norm G. Miller, PhD, a professor at the University of San Diego, Burnham-Moores Center for Real Estate examined what would happen if office tenants used 20 per cent less of the US' current office space, which has a total valuation of $1.25 trillion.
That decrease in demand would represent $250 billion in excess office capacity. Although the current situation is not that dire, Miller said the trend is real, and he presented how it is currently playing out and the long-term implications. According to Miller, four major trends are impacting the office market:
Move to more standardized work space.
Non-dedicated office space (sharing), along with more on-site amenities.
Growing acceptance, even encouragement of telecommuting and working in third places, and
More collaborative work spaces and functional project teams.
"Historically, under the old corporate hierarchy, everyone had their own assigned office or work desk and we saw utilization rates of 50 per cent or so," Miller said.
"Firms that have moved to sharing space are seeing much more efficient utilization rates of 80 per cent to 95 per cent, sometimes using conference space seats to handle unexpected overflow. Some also have arrangements with temporary office space vendors like Liquid Space, Regus, HQ, Instant Space, as well as supporting employees working from home or third places."
"The average amount of leased space (per employee) has been shrinking," he said. "As of mid-2012 the average was 185 square feet per worker, well below the average space assumption in most office-demand models, and well below figures 10 years ago."
Miller said that the reason for the change is partly due to the economy, as companies realise they could save money by minimizing excess space, but he added: "I believe the single biggest factor driving this trend is technology. Now that we have moved to cloud-based file storage and can access our work from anywhere and it can be easily shared, workers no longer have to be tethered to an office to be productive. Technology is very much at the heart of this transformation."
Following the webinar, CoStar News interviewed Dr. Miller. Click here for an in-depth discussion of the topic and comments by a wide sample of webinar participants who shared their firsthand account of the ongoing trend and its implications.