December 14, 2021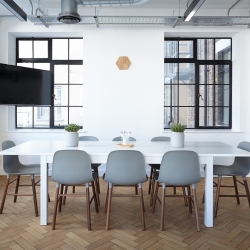 Heidrick & Struggles (Nasdaq: HSII) in partnership with INSEAD, have published a report titled Changing the Climate in the Boardroom. The report addresses corporate leadership's take on climate change, what boards around the world are currently doing to address climate change, and what they should be doing moving forward.
The report notes there is a clear disconnect between what board members say about the importance of climate change to their companies compared to what they are doing about climate change.
However, this report claims that 75 percent of board members understand that climate change is very or entirely important to the strategic success of their companies. This is an improvement to evidence found in INSEAD's 2019 qualitative research project, "What's Stopping Boards from Turning Sustainability Aspirations into Action?" involving in-depth, anonymous interviews, with 25 highly experienced European non-executive directors representing well-known companies, that indicated complacency, entrenched attitudes, lip service, greenwashing, and even downright denial of climate change.
Knowledge is not prioritised
The report claims nearly half, 46 percent, of those surveyed felt their board had insufficient or no knowledge of climate change's implications for financial performance. Climate change is a spoken priority but not yet something that can be measured or something we can hold ourselves accountable for. The reality is, many boards do not know what they do not know about climate change, which means that they are not always able to take appropriate action.
"Chairs have a particularly important role to play to ensure the right tone is set in the boardroom"
Speaking about the 2021 Changing the Climate in the Boardroom findings, Louis Besland, Partner, London Office and Chemical Sector Lead for Europe, Africa & UK said "Not all board members have sufficient knowledge and understanding of sustainability, which is why it is imperative that the issue is built into recruitment, education, and reward processes. Knowledge in this area is key in making an actual difference. When a board establishes that it needs a climate expert on the board itself, board chairs, lead directors, and members who embrace innovative methods will build a better company and world around it."
Sonia Tatar, Executive Director at the INSEAD Corporate Governance Centre which led the survey from the school, commented: "The corporate governance landscape has been evolving at a fast pace in recent years with rising activism, increasing global pressures and stakeholders' expectations. Today, climate change is becoming an increasingly urgent dimension for organisations to address as part of their ESG strategy. Investors are prioritising organisations whose actions are combating climate change and stakeholders are urging boards to be climate change stewards".
The climate is changing in the world's boardrooms
It is safe to say any board without expertise on the climate emergency is irrelevant in the 21st century. The report claims 75 percent of respondents agreed that the issue of climate change was very or entirely important to the strategic success of their companies and 72 percent of respondents said they are very or entirely confident that their company will reach its climate change goals. Whilst it was found that board members' confidence may be misplaced or that their companies' goals may be insufficiently ambitious, this should not take away from the overall understanding that the climate is changing in the world's boardrooms.
Alice Breeden, partner in Heidrick & Struggles' London office and a member of the global leadership team, commented on the findings saying "Chairs have a particularly important role to play to ensure the right tone is set in the boardroom. The role of the Chair may need to be challenged and re-thought in some cases. The Chair should ensure climate is treated as a priority, ensuring open and honest discussion about it, and encouraging deep reflection on how quickly the board and company can do even better."