May 27, 2020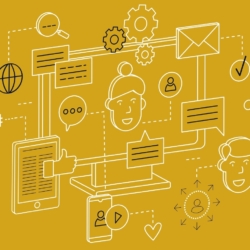 Corporate wellbeing initiatives are often too focused on sick individuals, and firms should be addressing the root causes of physical and mental health by building healthy organisations instead. That is the main claim of a new report from the Corporate Research Forum (CRF) report, supported by Lane 4 and Mercer.  The report is based on interviews with 150 HR leaders from FTSE 100 and similar sized businesses.
The report suggests that as the economic implications of Covid-19 become clearer, and organisations look to cut costs and restructure themselves to survive and thrive in the future, there is a danger that employee wellbeing may slide down the priority list.
The report's main claims include:
Organisations are missing an opportunity to bolster their employees' financial wellbeing. The issue costs UK employers £1.56 billion annually through absenteeism and presenteeism, yet only 44 percent of organisations are targeting their people's financial wellbeing. This issue is likely to move quickly to the forefront as Covid-19 damages the economy.
Organisations are not strategic in their approach to employee wellbeing. This is especially true of taking a data-driven approach to diagnosing problems and evaluating solutions. Only 26 percent of organisations consistently or often use workforce data to drive decisions about investments in wellbeing; only 32 percent are evaluating the effectiveness of their wellbeing initiatives consistently or often. "I believe we have reached a crossroads of maturity where health and wellbeing at work is about to move on from haphazard and uncoordinated programmes based on anecdotal evidence. The future requires a strategic and evidence-based approach, grounded in data, sector insights and benchmarks," says Dr. Wolfgang Seidl, Head of Health Management Consulting EMEA, Mercer.
Organisations must take a more systemic approach to wellbeing. This means leveraging senior leaders, line managers, the culture, the physical environment, and the nature of the work to create a healthy organisation in which most individuals, managers, and teams can thrive most of the time. There is too much focus on helping 'sick individuals', rather than building healthy organisations.
Organisations' wellbeing strategies should consider the 'whole person'. Covid-19 is demanding greater resilience as large portions of the workforce grapple with grief, illness, multiple forms of stress, isolation, loneliness, and anxiety – all at the same time and for the foreseeable future.
"Approaches to employee health and wellbeing at the most advanced organisations are consistently strategic, systemic, and take account of the whole person," says report author Dr. Carmen von Rohr. "A multidimensional wellbeing strategy has important benefits to the business, including enhancement of employer brand and Employee Value Proposition, increased engagement and retention, and improved morale."
"Developing holistic wellbeing and resilience in people's mind, body and broader environment, including their financial wellbeing, equips them to better unlock their own potential and thrive in all aspects of working life," says Dr. Alison Maitland, Director of Product and Research, Lane4.
The report'sfindings will be shared at CRF's upcoming webinar today, 11.30am to 12.30pm BST. Guests Dr. Wolfgang Seidl of Mercer and Lynda Guttenberg of Ericsson will lead the discussion. You can register for the webinar here.