July 26, 2023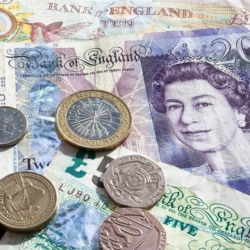 The managers and owners of firms across the UK now believe that the cost of living crisis is the top risk to their business, closely followed by a range of employee related issues, according to a new poll. Employee related risks in the top five include lack of skilled talent, employee retention and cost of salaries. Despite the cost of materials continuing to rise over the last 12 months, this risk has dropped back from first place in 2022. Risks relating to debts, late payments and fraud all make an appearance in the top ten for the first time.
The annual Gallagher Business Risk Index asked 1,000 leaders at UK businesses to identify the top risks affecting their firm. The current cost of living crisis came first, identified as the biggest concern by over one in five businesses (21 percent).
When asked specifically why the cost-of-living crisis is their top risk factor, the top influencing factors were the current inflation issues (cited by 53 percent of affected businesses), increases in the cost of energy (38 percent) and more generally challenging economic conditions (33 percent). In 2022, the top risk was the cost of materials, which, although still a risk named by many businesses, has fallen away when compared to other factors which have significantly risen up the table.
Many of risks cited by business leaders are primarily focused on people issues reflecting concerns about their workforce, with cost of salaries, lack of skilled talent and employee retention all appearing in the top five.
Cost of salaries appears second in the list and was named by 19 percent of business leaders, reflecting the tricky balance with running a profitable business but looking after employees fairly when bills and goods are rising in cost. One in three (34 percent) bosses directly cited inflation as why this was such a worry with a similar number saying it was more generally to do with the overall cost of living (31 percent).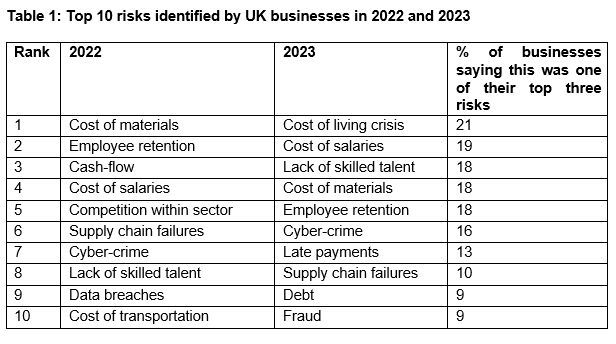 The lack of skilled talent is a major problem for many UK businesses with one in five (18 percent) saying it was amongst the top three risks to successful trading. When asked what was influencing their heightened views on lack of skilled talent, 30 percent of businesses said it was due to changing attitudes amongst the workforce, 17 percent said they had seen an increase in people moving jobs and 19 percent highlighted the long-term impact of COVID on the workplace.
Since the pandemic, the balance of power between employers and employees has subtly changed and new concepts like 'burnout' and 'quiet quitting', have emerged, albeit this may reverse if the economic instability continues.
The related issue of employee retention is also a big problem for UK employers (18 percent businesses said it was a top three risk) with inflation (26 percent), increased competition for workers (23 percent), plus changing attitudes (27 percent) as significant influencing factors. Employee retention has becoming a rising issue over recent years and employee turnover is at an average of 35 percent for UK businesses, proving a time consuming and costly problem for leaders.
Looking at new risks entering the top ten there has been a marked refocus from 2022, with issues such as debts, fraud and late payments moving up the radars of business leaders. Debts and late payments are a major headache for any business and leaders are right to be concerned as in May company insolvencies in England and Wales jumped 40 percent year-on-year to the highest level since monthly records began with construction and retail the hardest-hit sectors.
Fraud, which did not appear in the 2022 top ten risks at all, is also a rising concern as during times of economic stress fraud is known to increase as fraudsters look to exploit anxieties over finances.
Prior to the pandemic, organisations ranked competition within their sector as their top risk, chosen by 16 percent of business leaders. Yet in the present day, this only ranks fifth, overtaken by more pressing issues caused by the economic environment.