May 22, 2015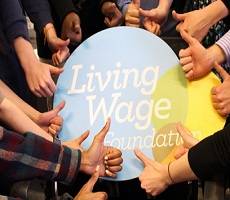 The Crown Estate has become the first national property business to accredit as a Living Wage employer. The Living Wage commitment aims to ensure that everyone working for The Crown Estate, regardless of whether they are permanent employees or contractors, receives a minimum hourly wage of £9.15 per hour in London and £7.85 per hour outside of London, significantly above the national minimum wage of £6.50. The Living Wage is calculated according to the basic cost of living in the UK and is accredited by the national Living Wage Foundation (LWF). A study examining the business benefits of implementing a Living Wage policy in London found that more than 80 per cent of employers believe that the Living Wage had enhanced the quality of the work of their staff, while absenteeism had fallen by approximately 25 per cent.
Alison Nimmo, the Crown Estate's Chief Executive, said: "A successful business is one that values its employees and we are very proud to have become the first national property business to become Living Wage accredited.  We want to underline our commitment to our talented employees who work across a diverse range of sectors ­­– from London's West End and regional retail through to offshore wind and strategic land – and work with our supply chain to encourage them to follow our lead."
Rhys Moore, director, Living Wage Foundation said: "We are very pleased to be able to welcome The Crown Estate to the Living Wage movement as an accredited employer.
"The size and scale of The Crown Estate will help extend the reach of the Living Wage, and we hope, encourage far more interest in the Living Wage from the property development and land management sector.
"At a time when over half of those in poverty are also in work, the Living Wage can make a real difference to hard working families, often being the difference between a trip to the food bank or a weekly shop.
"Accrediting as a Living Wage employer means that everyone in your work force, including sub contracted teams such as cleaning and catering staff, are paid at least the Living Wage. We believe work should be the surest way out of poverty and it is encouraging to see that some of the UK's most successful and leading business also recognise that work should pay. Over 1,300 businesses are Living Wage employers, who reward a hard day's work with a fair day's pay."