May 22, 2015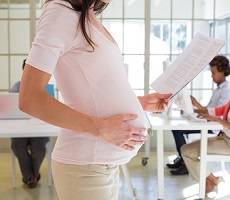 The level of support by employers towards new mums differs dramatically depending on seniority. According to AXA PPP healthcare, in a poll of new mums, over half of those who had been working in entry level positions (59 per cent) said that their employer hadn't provided any support beyond what was legally required in the run up to their maternity leave. But, for new mums who had been working in senior positions, that figure dropped to one in five (21 per cent). While 23 per cent of entry level employees were offered 'keeping in touch days' during their maternity leave, this number doubled for management level staff (46 per cent) and senior executives (54 per cent). Only 19 per cent of entry level workers were given advice about going on maternity leave compared with nearly a third (30 per cent) of management level employees.
Following the birth of their babies, entry level workers were also more stressed, with 45 per cent saying they had been feeling stressed since their baby's arrival compared with 23 per cent of senior executives who said they felt this way.
Perinatal mental illnesses are a major public health issue. According to a recently published report commissioned by Maternal Mental Health Alliance – The costs of perinatal mental health problems – between 10 per cent and 20 per cent of women develop a mental illness during pregnancy or within the first year after having a baby.
Said Dr Mark Winwood, director of psychological services for AXA PPP healthcare: "The perceived disparity in the support employers offer to first time mums before they go on maternity leave is alarming – particularly when you consider the impact this may have on the individual's mental health. Indeed, this 'ambivalence of worth' by employers could be contributing to significant self-esteem issues for some mums to be.
"Employers would be wise to ensure they support all of their employees equally at this transformative time in their lives and careers. They should also remember their legal duty of care to ensure that they conduct an appropriate and regular risk assessment process for all employees who notify them of their pregnancy to ensure that they are offered suitable support and workplace adjustments to help them remain safe at work – irrespective of their position within the organisation.
"Helping employees to prepare for their maternity leave, and supporting them during their time away from work, can help them feel more positive about coming back to work once they are ready. For example, offering 'keeping in touch' days during maternity leave can help to ensure that new mums still feel part of the working community, encouraging them to return to work, bringing their wide ranging skills with them!"