September 10, 2015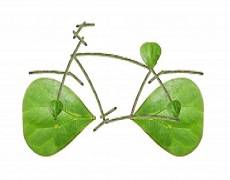 The naming and shaming of Britain's most overcrowded trains in a new report from the Department of Transport highlights the uncomfortable journey many workers have to endure every day. This is why a significant number of commuters long to be cyclists, according to recent research from Aviva, which found more than half of those who cycle to work said they arrive refreshed after their commute. Just 1 in 10 car and bus users claimed the same thing and that figure dropped to 1 in 20 for train and tube passengers. Almost a quarter of cyclists (24 percent) also reported feeling motivated after their typical commute, scoring higher than any other common form of commuting, including walking. This is double the proportion of bus passengers (12 percent) who claimed that their commute improved their motivation levels, and triple the proportion of drivers (8 percent) and four times the proportion of train and tube users (6 percent).
In the study of 2,000 working UK adults commuting on two wheels had a positive impact on mood, with more than half (53 percent) of cyclists saying that cycling to work improved how they felt. Walking was next best as a mood enhancer (38 percent), followed by motorbike (33 percent), bus (18 percent), car (14 percent) and finally train or tube (9 percent).
Dr Doug Wright, Medical Director at Aviva UK Health, said: "It's clear that the way people commute to work has a major impact on how they feel when they arrive. It seems from our research that if you are willing to jump on a bike and get to work under your own steam it can boost your mood as well as your physical health."
Despite the positive effects reported by those who cycle to work, using a car for commuting was by far the most common form of transport, followed by buses, walking and trains or tubes.
Eleven percent of drivers, along with 9 percent of train and tube passengers, 7 percent of walkers and 6 percent of bus users all admitted that in an ideal world they would use a bike to get to work.
Unsurprisingly, those who cycle to work were also most likely to say they were generally happy with their fitness (71 percent), beating walkers (63 percent), train travellers (56 percent) and car drivers (54 percent). Those who said they don't have any commute to work were the least likely to feel happiness about their fitness levels (36 percent).
"It's interesting that there appears to be a desire to cycle to work, but often that isn't being acted upon," said Dr Doug Wright. "Previous research we've done has shown that can be for a number of reasons, often around safety and the distance people live from their workplace. But if businesses want to improve the mood of their workforce, it might be an area to explore.
"Offering a Bike to Work scheme, showers at the office or secure bike storage could help convert some drivers to cyclists and businesses could see a benefit from that."