November 5, 2015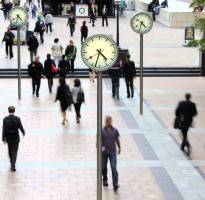 The modern workplace creates the physical,technological and cultural point of intersection between a number of abstract or movable facets of the business, including people, technology, culture and creativity. That has always been true to a large extent but with the growing complexity of exactly how, when and where we work, this role of the office as the epicentre of it all has been thrown into sharp relief. With that has come a greater understanding of the intersections that exist between disciplines such as IT, FM and HR. In some areas, the roles already appear indistinguishable and I believe this will only become more apparent. The main driver of that growing convergence of roles will be the availability of data to make informed decisions about interrelated aspects of organisational culture, work practices, office design and management and the development and motivation of individuals.
This process has already begun and will change everything. Data will be the most important source of competitive advantage for organisations. It will change the way we make decisions and what outcomes we predict and expect from the decisions we make.
Traditionally decisions about how to design a workplace, for example, have been based on experience, gut instinct, know-how, what has worked in the past, perceptions of what is needed based on what other people are doing and the trends decision makers have identified or to which their attention has been drawn. But increasingly decisions will be taken based on hard data.
The Wall Street Journal reported recently on a study which found that the people involved were around ten percent more productive when they were able to interact face to face with their colleagues and have access to spaces such as meeting tables and break-out areas. What is particularly interesting about this study is how that productivity was measured. Rather than using post occupancy surveys or similar management based means of evaluating outcomes, employees had their activity tracked with sensors that recorded their movements, who they met and who they spoke to during the day.
We've known the principles that determine how important face to face interactions are for productivity for some time, certainly since Tom Allen defined the relationship between distance and interaction at MIT in the 1970s, but even before that we knew it intuitively. But now we can put numbers to it and that is changing everything. Indeed, when Marissa Meyer of Yahoo took her much talked about decision to ask staff to stop working remotely and work together in the office instead, her decision was based on data from the company's network, a fact that somehow got lost in the furore that followed.
We have an instinctive wariness of monitoring people in this way but there is little doubt that more and more firms will be looking to acquire and apply data about what happens in their offices so that they can make better informed decisions about every aspect of their organisation and the people who work for it. The management challenges will involve ensuring that the acquisition of such data is unobtrusive and is done so with at least the consent of employees and hopefully their approval, if they understand the benefits. It may be essential, for example, to ensure that data is not used on a person by person basis and that it forms a generalised view of work, not a specific one about an individual.
The potential benefits seem obvious but the management challenges are significant. So we can expect to see far more debate about this in the very near future. And we will see it crossing the demarcations that have existed to a greater or lesser extent between the disciplines most involved with workplace design and management, human resources and ICT.
The issue is being addressed to some extent within the trade associations that represent these professions. This week the CIPD held its conference in Manchester and, as ever, the issue of data looms large. The CIPD has taken the lead in this matter with, amongst other things, a recent report called  "Talent analytics and big data – the challenge for HR"
The report explores the ways in which big data and talent analytics can help HR take a more forward-focused and evidence-driven approach to things like workforce planning, talent management and personal development. Even so, the report concedes that there are obstacles. It claims to be concerned about the reliability and credibility of its data as well as the obstacles created by structural silos which work against the sharing of data.
The solutions to these challenges are both strategic and tactical, suggests the research. From a strategic point of view, people analytics needs to be at the centre of business priorities as well as HR's own priorities in terms of capability building. The report concludes that on a tactical level, HR must:
Identify the skills it needs
Source more key talent with backgrounds in fields such as psychology, economics and other social sciences to supplement the usual reliance on data engineers
Develop analysts who understand and connect with the people agenda and are capable of translating data into actionable insight.
These are all pertinent themes and they will be discussed as just one part of the upcoming Worktech conference in London on the 17th and 18th November, more details of which can be found here.
______________________________________

Philip Ross is a consultant and commentator on the impact of technology on our lives, work and workplaces. He is also the driving force behind the global Worktech series of events. Worktech London takes place on the 17th and 18th November. More information is available here.