July 3, 2020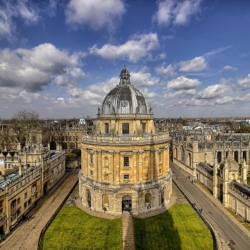 New research from Property Consultants Bidwells claims that up to 20 million sq ft of new lab and office space will be required in the Oxford-Cambridge Arc within the next two decades to keep pace with demand, twice the volume of the previous 20 years. The new report, 'Oxford-Cambridge Arc Beyond the Covid-19 Crisis', also estimates that the Arc will represent almost 11 percent of UK GVA by 2050, up from 6 percent today, equivalent to £100bn a year.
However, the property consultancy has warned that a lack of new development and long-term strategic planning from Government is threatening to dampen investors' appetite to invest in the region.
The Arc's knowledge-based economy complemented by a fast-growing distribution sector along the M1 corridor, is crucial to UK plc's role as a global exporter of innovation. But rising lab and office rents, caused by a mismatch between supply and demand and a lack of infrastructure investment, is threatening to stall the rapid growth of the region by pricing out businesses and talent.
In the last five years, rents in Oxford, Cambridge and Milton Keynes have skyrocketed by 74 percent, 32 percent and 28 percent respectively. In Oxford, prices have reached historic highs of £46.50 per sq ft, putting rents in the same bracket as those in Zone 2 in Central London.
Since 2016, when the National Infrastructure Commission's recommendations for maximising the potential of the Arc were published, decision making has been slow, exacerbated by ongoing political uncertainty associated with Brexit, and more recently by Covid-19.
To overcome these challenges, Bidwells is urging ministers to create a long-term strategic vision for the Arc. This will make the delivery of vital infrastructure improvements, which are deemed essential by local businesses to their ability to attract and retain talent, easier and quicker. The property consultancy argues that in order to capture the potential of the Arc, the science and tech sectors must be provided with the necessary facilities and infrastructure to scale-up.
The region's high-growth core, where economic output rose by 5.4 percent over the five years to 2018, compared to the national average of 3.7 percent, has the ability to create vital, highly skilled employment opportunities.
In 2018, the number of people working in the Scientific & Technical sector across the Arc  rose by 6.1 percent. In Cambridge, home to giants such as Amazon and Microsoft, this figure rose to 27 percent, an addition of 8,000 new jobs.
As a global exporter of innovation, the Arc's cluster of life sciences, research and development and tech industries will be crucial to the UK's economic response to Covid-19.
Cambridge-based drug making giant AstraZeneca is working in partnership with Oxford University to develop a vaccine for the virus while Milton Keynes' National Biosample Centre has been converted into the UK's biggest coronavirus testing centre.
Image by Alfonso Cerezo