February 27, 2020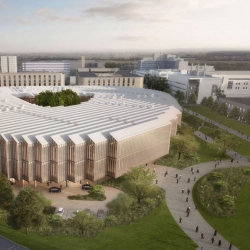 While Brexit uncertainty has dented business investment, on which the research and development (R&D) sector is particularly dependent, new research suggests Cambridge remains a popular destination for knowledge-intensive businesses. According to property consultants Bidwells, the property market in the city proved robust throughout 2019, with take-up moving well ahead of the 10-year average. Knowledge-intensive businesses were responsible for more than 80 percent of the space taken, roughly evenly split between the life science and tech sectors.
Combined office and laboratory take-up exceeded 0.8 million sq ft in 2019, the research paper claims (registration required). This is the highest total since the record highs seen in 2014/15 when AstraZeneca agreed its new global HQ and R&D centre adjacent to Addenbrookes hospital on Cambridge Science Park.
A number of new buildings were completed during the latter half of 2019. The largest letting was at 30 Station Road, CB1, which was leased ahead of construction in a pattern that has become familiar in Cambridge in recent years. Availability stands at 643,300 sq ft, well below the current level of business space requirements in the market, according to the research paper.
Focus on quality space to attract knowledge workers
With an increasing focus on quality, green credentials and the workplace as a tool to recruit in-demand knowledge workers, 2019 saw a greater interest in grade A space, which accounted for 64 percent of total activity. This interest has spurred an upturn in refurbishments over the past two years, reducing the levels of poorer-quality secondary stock. However, the options for such repositioning are now relatively limited, the research paper says.
2019 saw prime rents in the Cambridge office sector rise 12 percent to a historic high of £46.50 per sq ft, with a 10 percent uplift in the labs sector.
Despite the high level of take-up in 2019, demand has not diminished, the paper goes on. There are currently 1.2 million sq ft of office and lab space requirements. There has been a particular upturn in larger floorplate requirements, comprising almost a third of office floorspace demand. This will maintain the focus of activity on pre lets, the paper claims, illustrated most recently by a leading global tech company securing 79,500 sq ft for occupation in 2021. The IT sector now occupies more than 1.6 million sq ft of science park floor space in Cambridge.
Rising rents
This level of demand is inevitably going affect rents, Bidwells warns. 2019 saw prime rents in the Cambridge office sector rise 12 percent to a historic high of £46.50 per sq ft, with a 10 percent uplift in the labs sector.
Commenting on the findings, Sue Foxley, Research Director at Bidwells, said: "The viability of such growth is underwritten by the shift in the occupier base of the Cambridge market. Three quarters of the commercially occupied floor space in the city's science and tech cluster is occupied by knowledge-intensive industries. Such businesses will welcome the 0.45 million sq ft of floorspace we estimate will come forward over the next two years, although given the scale and depth of demand from the life science and tech sectors, further rental growth will follow."
Rents for Grade A space have also been predicted to increase in many parts of London this year.
Image: new HQ for Astra Zeneca designed by Herzog & De Meuron