October 18, 2022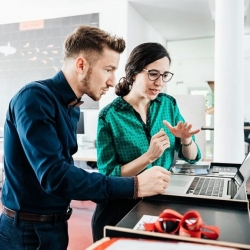 With more than 5 million Brits unable to carry out simple online tasks like sending emails or using the internet, new research reveals UK workers are missing out on additional earnings of £5.69 billion due to a lack of digital skills according to Virgin Media O2 and economic modelling from Cebr. As the UK faces ongoing economic instability and with an uncertain jobs market, the research claims that a lack of adequate digital skills could exacerbate problems being faced by cash-strapped Brits struggling to make ends meet. More than a third of Brits (34 percent) feel a lack of digital skills training has held back their earning potential already, and almost a third say they need digital skills so they can shop around for deals and save money – amid rising anxiety over the cost of living.  
During Get Online Week (17-23 October), hundreds of community centres across the UK will hold free sessions to help people with low or no digital skills get online. It comes as Virgin Media O2's research suggests that over 5 million people in the UK are unable to carry out simple digital tasks such as using a computer to write a letter or sending an email, despite wanting to.
The sessions are designed to help people learn how to use the internet to carry out essential tasks such as word processing, emailing, accessing online services including booking medical appointments, managing their money online, applying for jobs, taking part in virtual interviews, or accessing online education or training programmes.
With almost a third (31 percent) of Brits believing they have been passed over for a promotion or pay rise because of a lack of digital skills, a quarter of people in the lowest earning pay bracket (less than £12,570 p/a) feel their skills would be inadequate to secure them a similarly paid role if made redundant, while a fifth (21 percent) say they need those skills so they can get a job with a higher salary because of the cost-of-living crisis.
In addition, two thirds of Brits say a lack of digital skills is contributing to their stress and anxiety. Almost half (44 percent) say a lack of digital skills is adversely affecting their ability to look after their mental health and personal wellbeing, for example not being able to book online medical appointments or apply for benefits.