October 17, 2022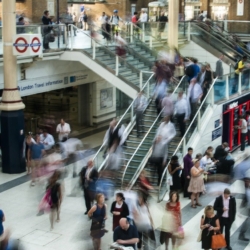 The so-called cost of living crisis is having a fundamental impact on people's working habits, according to Beamery's latest Talent Index – Sixth Edition. Almost a third (29 percent) of workers polled for the report are now avoiding the office because of the increasing cost of travel whilst another third cited (31 percent) they were considering leaving their jobs completely due to lack of salary increases.
With economic conditions in the UK tightening, it's perhaps no surprise to learn that 37 percent of workers said that low salary was the most frustrating thing for them in their current workplace; but interestingly this was mentioned by 42 percent of the female respondents, versus 29 percent of the men asked. Poor management was called out by respondents as another reason to move on, whilst a lack of career progression was listed third.
When asked why employers were struggling to retain workers, responses went beyond salary to also include a negative company culture (26 percent) and lack of opportunities for development (25 percent). According to employees, opportunities for development are being missed because individuals can't dedicate the time to training (24 percent) alongside their job or they haven't been given guidance (16 percent) on what skills they will need in the future to enhance their role.
The dramatic increase in the cost of energy may change working habits yet again over the winter as people attempt to save on heating costs, with one in five (20 percent) of respondents indicating that they are now considering coming into the office more regularly.
The Talent Index data also suggests that the cost of living crisis is affecting generations differently, with 18-34s being the largest group attempting to save travel costs by working from home. They are also one of the most likely to consider leaving their job for a salary increase, with 34 percent considering leaving in the next 12 months for higher pay.
With continual flux in talent, employers are also working hard to attract and retain younger workers – taking increasingly into account the importance of corporate values to Gen Z workers. 20 percent of 18-24s agree that DE&I is very important in the talent acquisition process, but just 11 percent would leave because of poor company values. According to the research, regardless of age, all employees cite the same top five elements as most important when asked about what kind of organisations they want to work for – salary, job security, employee rewards, opportunities for career development and flexible working.
Gen Z are however the most likely to believe that the gender pay gap still exists with 86 percent saying it has either become bigger or stayed the same, compared to 64 percent of 55-64 year olds. 22 percent of 18-24 year olds added that more men have been promoted in the last 12 months than women in their organisation.
Overall, it seems that UK employers still have a way to go in implementing effective DE&I strategies. When asked about seeing evidence of DE&I initiatives within the business they work for, there was little to show that progress was being made.
18 percent of UK employees believe there are equal numbers of men and women promoted to managerial positions within their organisation.
17 percent felt their business has known procedures and facilities in place for people with mental or physical health challenges.
15 percent feel that there is more gender diversity in leadership roles, compared to 12 months ago
13 percent believed businesses provided benchmarks to identify insufficient diversity, equity and inclusion – and measured progress.
13 percent felt that DE&I is seen as being very important in the talent acquisition process