June 9, 2022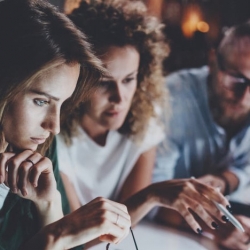 The new Digital Britain [automatic download] report from Sage claims that over half of Britain's economic potential from tech adoption is as yet untapped. But ongoing concerns amongst small and medium sized business about cost, skills and knowledge are holding them back from taking on the digital transformation that will ensure their success and provide a massive boost to the economy. The report claims that the use of technology by small and medium businesses (SMBs) contributes £216 billion to the UK economy; but if SMBs unlock the full benefits of technology, this could add an extra £232 billion, boosting the value of tech use to the UK economy by almost double to £448 billion annually.
Sage commissioned the study, which was launched at a House of Commons event today, of 5,000 SMBs across the country to understand the level of digitalisation and how it is boosting UK economic growth. SMBs are an integral part of the UK's economy, representing 61 percent of UK jobs and 52 percent of UK turnover.
The research shows SMBs are using technology to cut costs (62 percent) and better compete for hard-pressed customers (68 percent). Ninety-two percent of SMBs now depend on technology for business survival but concerns around costs, skills and knowledge are holding them back from going further and faster.   With the right policy framework, Sage's new report reveals the huge potential for SMBs to create a high-growth digital economy, which could unlock an extra £232 billion for the economy annually.
Sage is calling on big tech companies and government to adopt a pro-tech, pro-enterprise approach and deliver improved financial incentives to encourage greater investment in productivity-enhancing technologies, more data sharing so SMBs can innovate and adequate futureproofing of digital infrastructure.
Key findings
The top barriers for investment are cost and understanding:
The most significant barrier is cost, with 41 percent concerned about adopting new tech due to cash flow pressure and 24 percent unsure of the return on investment
Second is awareness, with 34 percent stating they are unaware of which solution is right for them
Almost a third (30 percent) say that training staff on new processes and breaking habits are also a barrier
SMBs must prioritise investment in digital tools to successfully mitigate against macroeconomic challenges
The threat of a recession, continued inflation and increased costs are [significantly] impacting SMBs
Over 9 in 10 businesses (92 percent) state that technology is important to their survival and growth, and 88 percent say that it is key to business resilience
Data is an important area of untapped potential 
Technology that generates data (websites, social media, accountancy, and HR software) have been widely adopted by small and medium sized business – and continue to see high levels of investment
However, only 24 percent of SMBs have adopted tech to collect and use data, such as data analytics software
Five sectors with the lowest adoption of data analytics technology are beauty and wellbeing, retail, creative industries, hospitality, and education
The pandemic prompted a fundamental perception shift across SMBs regarding digital technology
92 percent say that digital tools have been vital to their survival through the pandemic
Of businesses founded in the past two years, 91 percent credited their creation to new and innovative technologies
8 in 10 SMBs say that technology is important to achieving their business goals. This is reflective of every sector and region in the UK
Over 75 percent of businesses stated that online reputation information, such as online reviews and ratings ('Blue Tick Tech') is important to them
Effective action by government and policy makers could unlock an additional £232 billion in gross value add via digitalisation to the economy
Sage and Strand Partners worked with Oxford Analytica to undertake an economic modelling study to determine the value of tech to the UK economy; this took in to account the extent to which tech enables increased sales and services to customers, reduced costs and operating expenses and internal efficiencies
These all represent key inputs into Gross Value Added (GVA), a leading measure of the size of the economy which is used to determine GDP.
Call for action
Based on the Digital Britain findings, Sage has three asks of the government and other big technology companies to help deliver a robust and dynamic digital landscape:
Access to tax incentives and reforming Help to Grow: Digital to scale digital adoption and boost productivity. This includes:
Expanding the range of technologies Help to Grow: Digital covers to include a wider range of solutions
Allowing SMBs to deduct 200 percent of their expenditure on newly adopted productivity-enhancing technology from their tax bill
Stopping the progression of the Online Sales Tax in any form
Encourage more public sector data sharing to provide useful insights for SMEs. This includes:
Developing a clear plan for opening government and public sector data sets that will enable real-time insights to empower SMBs
Establishing a consistent set of industry standards to enable a more trusted, efficient, and innovative data-sharing culture across business, third parties and government
Creating an AI framework that will enable all businesses to use data more freely for research purposes
Act upon and endorsing Mobile UK's call to fund Digital Champions for local authorities to help coordinate and prioritise digital connectivity.